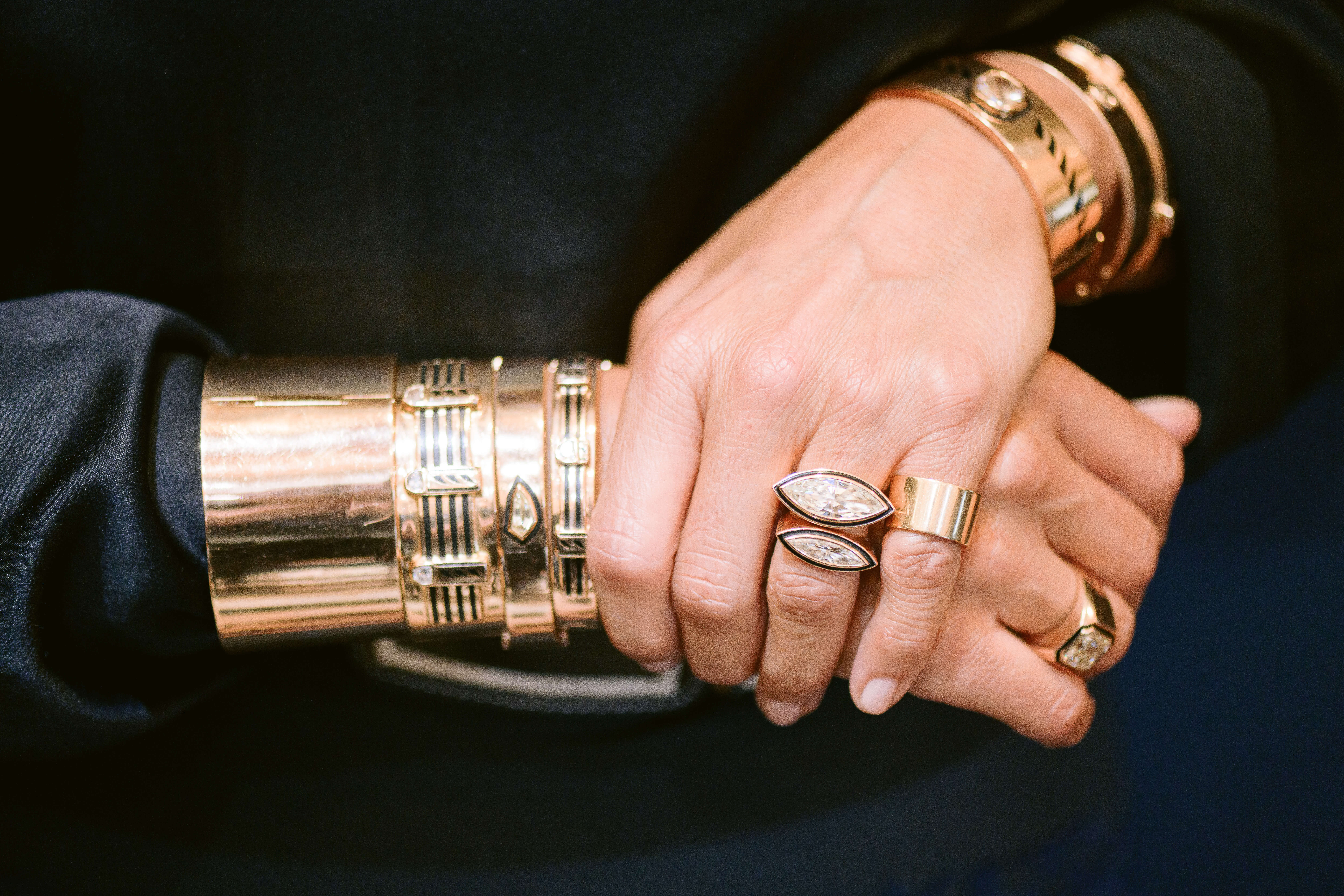 Buyer Qualifications
Buyer Qualifications
COUTURE Las Vegas is an appointment-based TRADE event for ACTIVE JEWELRY and/or TIMEPIECE BUYERS ONLY. COUTURE is NOT open to the public. Buyer registration is complimentary. If you have attended COUTURE in the past two years, then you may already be pre-qualified. If you are a retailer of finished fine jewelry and/or timepieces and are NEW to the COUTURE show, you will be required to APPLY for admission to COUTURE.
In order to qualify you must be a buyer from an active retailer of DESIGNER FINE JEWELRY and/or TIMEPIECES. Those dealing in non-branded jewelry will not qualify. Non-exhibiting manufacturers, designers, wholesalers, loose stone dealers or those operating out of their home will not be admitted to the show. Your firm must be an active retailer of branded, finished jewelry and/or watches, not loose stones. We reserve the right to request additional business identification if deemed necessary. The following documentation is required in order to be considered for the qualification process.
ADMISSION NOT GRANTED TO:
Individuals under the age of 16, including infants
Individuals operating businesses from home
General public/Non-trade guests/Retail buyer guests
Manufacturers, designers, suppliers, loose stone dealers
Retail jewelers who do not include COUTURE level branded designer fine jewelry and/or timepieces in their merchandise assortment
COMPANY CREDENTIALS NEEDED FOR REVIEW
To qualify the company, you must provide (3) THREE of the following documents. One of the documents MUST BE INVOICES OF FINISHED JEWELRY and/or TIMEPIECES and one of the documents MUST BE the first 2 pages of store lease and photographs of inside and outside of store including name signage:
*All documents not written in English, must be accompanied by certified translations.
Invoices – Three (3) invoices documenting the purchase of finished fine jewelry from multiple participating COUTURE brands and designers (must have exhibited within the past 5 years) in multiple quantities within the last twelve months. Traditional Jewelry Retailers must provide 3 invoices that total $30,000 or more EACH. Non-Traditional Jewelry retailers (such as a clothing boutique or gallery) must submit fine jewelry invoices with a total of $10,000 or more. (Required)
Business License indicating that you are a retail business (NOT a seller's permit or Tax ID)
First 2 pages of Store Lease or photograph of inside and outside of the store including store name signage. (Required)
New business only – Letter of Intent from an attorney or bank on official letterhead stating the intent to start a new retail business
On-line Jewelry Retailer ONLY- Active Web Site address through which Company Business can be validated
---
If you are a member of one of the following organizations, please also provide proof of membership.
Jewelers Board of Trade – Listing in JBT as a retailer of finished jewelry.
Jewelers of America – Be a member of JA as a retailer of finished jewelry.
American Gem Society – Be a retail member of AGS.
Retail companies applying to attend COUTURE for the first time will go through an extensive review process that could take a minimum of 2 weeks after all required credentials are received.
Emerald Expositions reserves the right to accept, reject or prohibit registration for or attendance at its events at any time for any reason.
Additional policies include:
Attendee grants Emerald the right to use Attendee's name, image and likeness, including but not limited to any photographs or video taken of you at the show, for marketing purposes.
ATTENTION: Exhibitors and Sponsors at COUTURE 2024 may utilize badge scanning in order to follow up with you after the show. Please be aware that by permitting an exhibitor/sponsor to scan your badge, your contact information including address, email, phone & fax will be shared with the exhibitor/sponsor, and COUTURE will no longer be in control of how your information is used. Questions or concerns? Email privacy@emeraldx.com.
Emerald reserves the right to accept, reject or prohibit registration for or attendance at its events at any time for any reason.
Attendee expressly assumes, and releases Emerald and any affiliates from, all risks, claims, damages, losses, costs and expenses, whether or not reasonably foreseeable, associated with, resulting from or arising in connection with Attendee's participation, presence or sampling of any products at the Event, including, without limitation, all risks of harm, damage, illness (including viruses or illness from any communicable disease or from any sampled products) or injury (including death) to or related to Attendee and his or her property.
Attendee expressly agrees to fully comply with applicable CDC COVID-19 health and safety measures and protocols for attendance at COUTURE. Currently, CDC recommends that fully vaccinated individuals may resume activities without wearing a mask or physically distancing, except where required by applicable government regulations. Therefore, vaccinated Attendees are encouraged but not required to wear masks at COUTURE.
If Attendee is not fully vaccinated, then Attendee agrees to wear a face mask at all times and maintain appropriate social distance at COUTURE. If needed, Emerald will have limited face masks available for those attendees who do not bring their own masks to the event.  Emerald reserves the right to remove any attendee from the event for failure to adhere to the required COVID-19 health and safety measures and other protocols for attendance at the event.
By agreeing to these Terms and Conditions, you confirm that you have reviewed and agree to the Emerald Privacy Policy.
COUTURE 2023 IS A TRADE ONLY EVENT. In order to attend the COUTURE shows, you must be a qualified jewelry retailer. No private non-trade buyer is permitted on the show floor.
Individuals operating a home-based business will not be admitted to the show.
Retailers found to register private or non-trade buyers will be subject to penalties.
All buyers are required to show individual business identification and government issued photo ID to be allowed in the show. Retail stores found to register private or non-trade buyers will be subject to penalties.
Individual personalized business and personal photo identification must be carried at all times.
Show management reserves the right to deny any application for admittance to the show based on insufficient qualification documents that are requested. It is up to the applicant to prove their affiliation with the industry.
No one will be permitted to vouch for another individual's credentials.
No strollers are allowed into the show.
All attendees to COUTURE 2023 must be 16 years of age or older.
All attendees are approved by Emerald. Registration from the public will be denied.
Your badge is non-transferable. It will be confiscated upon any attempts to transfer or sell it, and all parties will be banned from future shows.
Solicitation of business or distribution of materials by non-exhibitors is prohibited. Violators will be removed from the show.
There will be an onsite re-print fee for misplaced badges. You will be charged $395 per request or if you purchased a Daily Show Badge, the fee will be charged per remaining show days. Credit Card Only.
Registration/Housing Cancellation Fee: You may cancel your full registration or reduce the number of registered days with no penalty. For more information about registration and housing cancellation fees coming soon.
In order to provide a true quality buying environment between jewelry brands/manufacturers and retailers, COUTURE show management continually reviews proper qualifying documents for each attendee. If at any point, before or during COUTURE 2023, show management determines that the qualifying documents do not meet the requirements to attend, you will be denied entry to COUTURE 2023. We are unable to honor and will cancel any reservations booked during the registration process if you do not qualify to attend COUTURE 2023. If you would like to rebook directly through Wynn Las Vegas, you can visit www.wynnlasvegas.com.