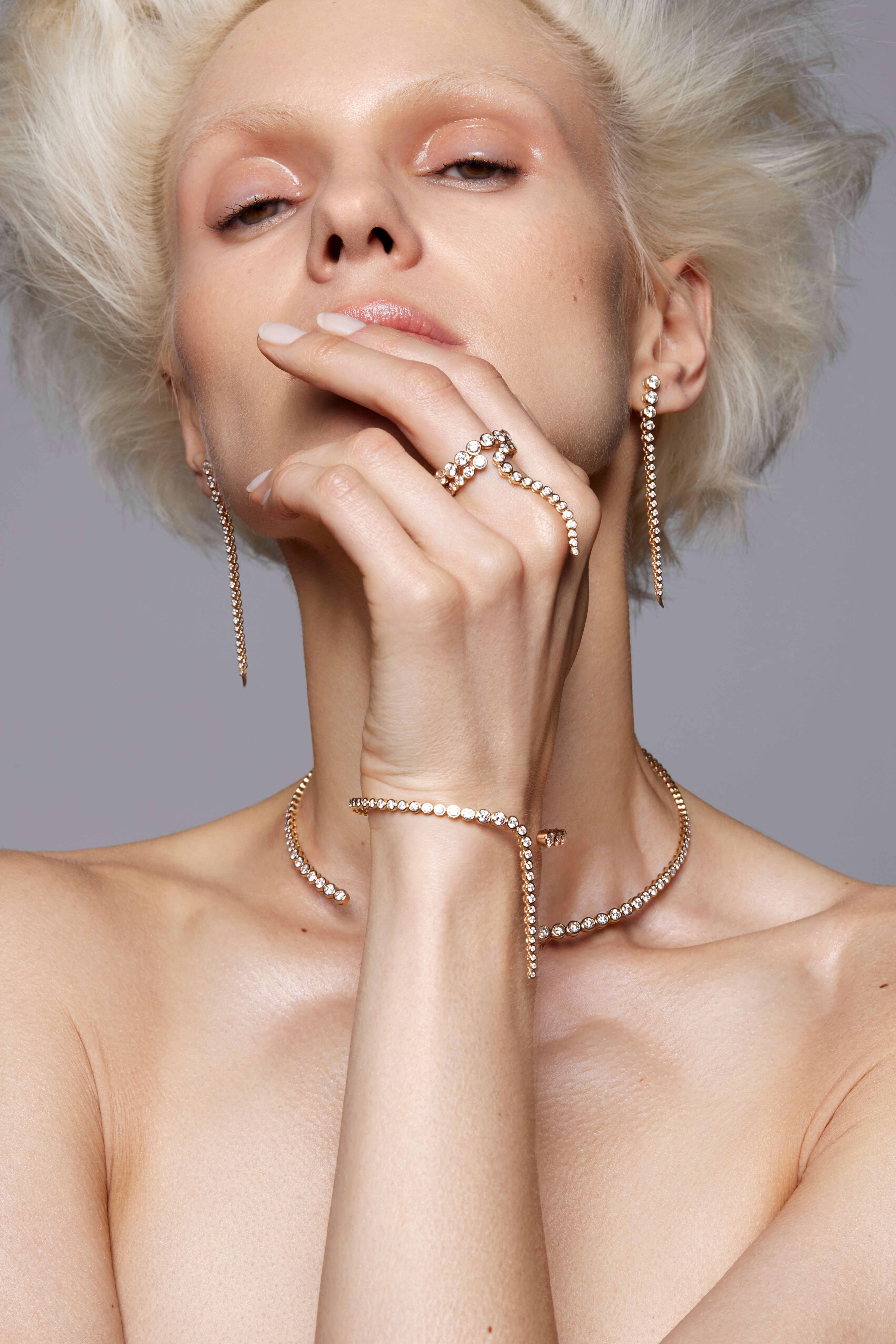 May 06, 2023
Interview by Jenny Bahn for Latest Revival Magazine
D
esigner Tara Maria Famiglietti grew up in New York City, steeped in the culture of fashion. Her mother owned a Madison Avenue boutique frequented by everyone from Bianca Jagger to Barbara Streisand, and her father ran the iconic Jenny Waterbags, creating clothes for music industry megastars like Mick Jagger, John Lennon, and Jimmy Hendrix. "Their work absolutely influenced me," Famiglietti says of her parents. "I had a lifetime of listening to dialogue about the fit of a garment or the drape of a fabric. Their style was impeccable in every corner of our life."
"I had been dreaming up and conceptualizing the idea for ONDYN for some time. I wanted to create jewelry made to move with you, that takes shape as you wear it. It was somewhat of a study in the drape and hang of diamonds on a form."

Tara Maria Famiglietti
Famiglietti launched ONDYN (pronounced "oon-deen") in 2019, following nearly two decades of success in the industry. In her early twenties, New York Magazine anointed her as a designer to watch—early attention that she lived up to. Not long after, she was appointed one of the first designers for Kaviar and Kind, a then-über-buzzy appointment-only boutique in Los Angeles frequently seen in the background of paparazzi photographs. There, she solidified her place as a celebrity favorite, with pieces landing on the likes of Gisele Bündchen and Jessica Alba.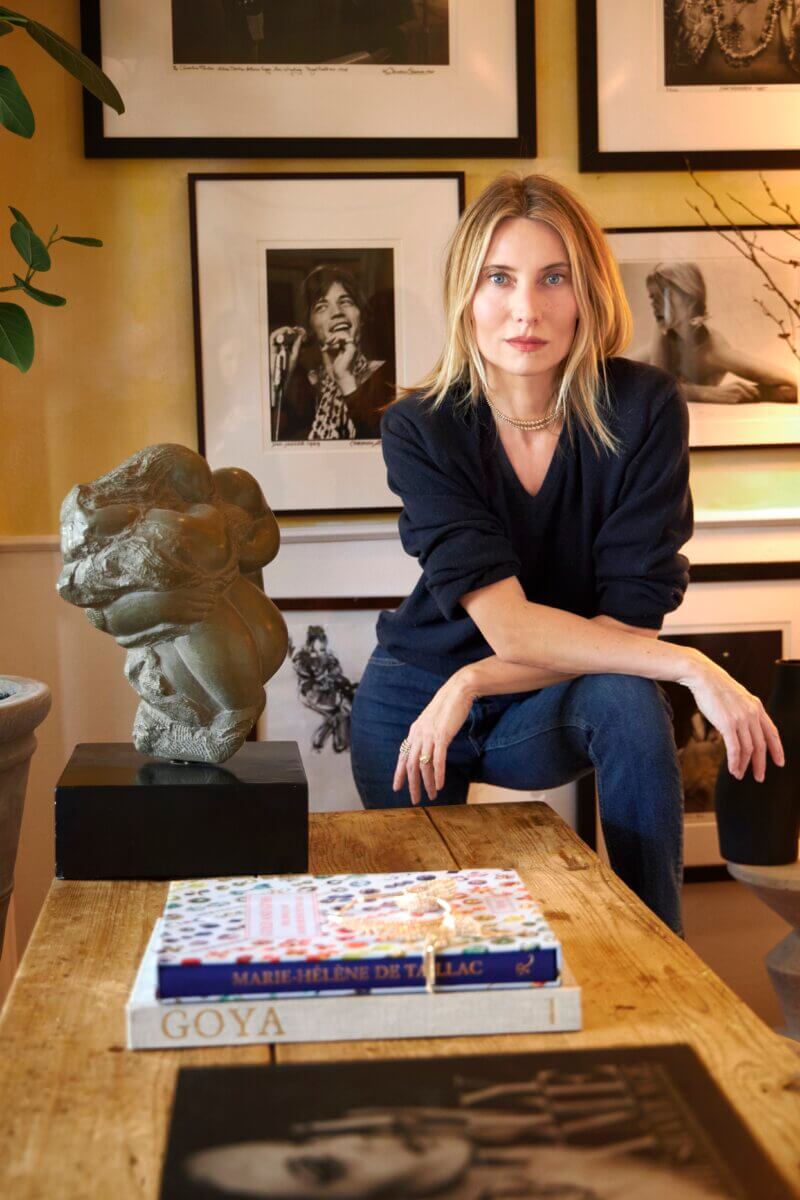 For ONDYN, Famiglietti winnowed her focus to a sharp—albeit vast—point: water. To center one's focus so exclusively is a challenge, but the designer never fails to bring fresh inspiration up from the depths. Her pieces capture and distill the element into wearable forms.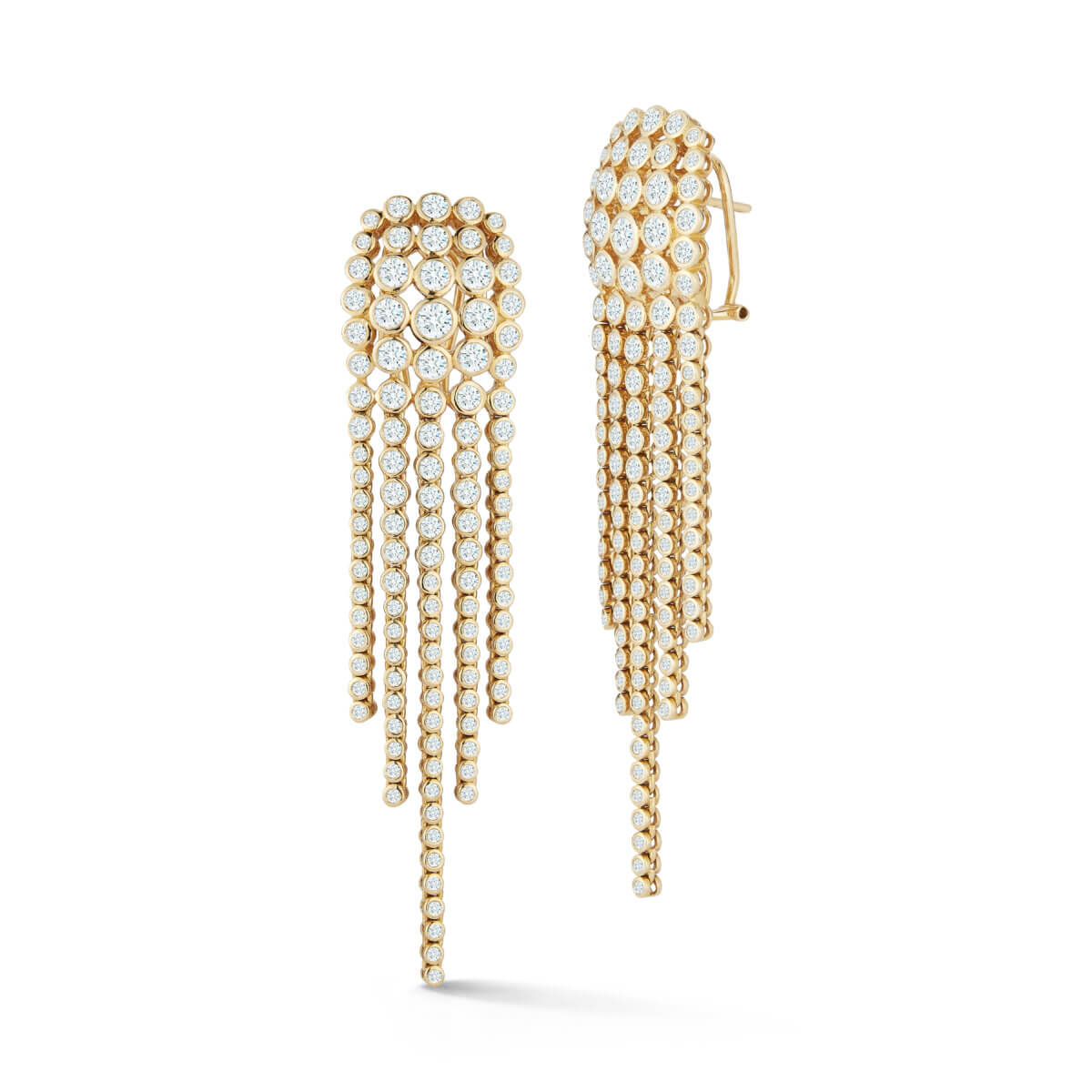 Gold and diamonds, Famiglietti's materials of choice, roll, undulate, curl and spike. Glinting stones gather together in beads, pool in clusters. Her designs appear to move across the body in defiance of gravity, or are pulled down by its weight, dancing under a spell. It is both effortless and decadent, perfectly exquisite but wearable in the everyday.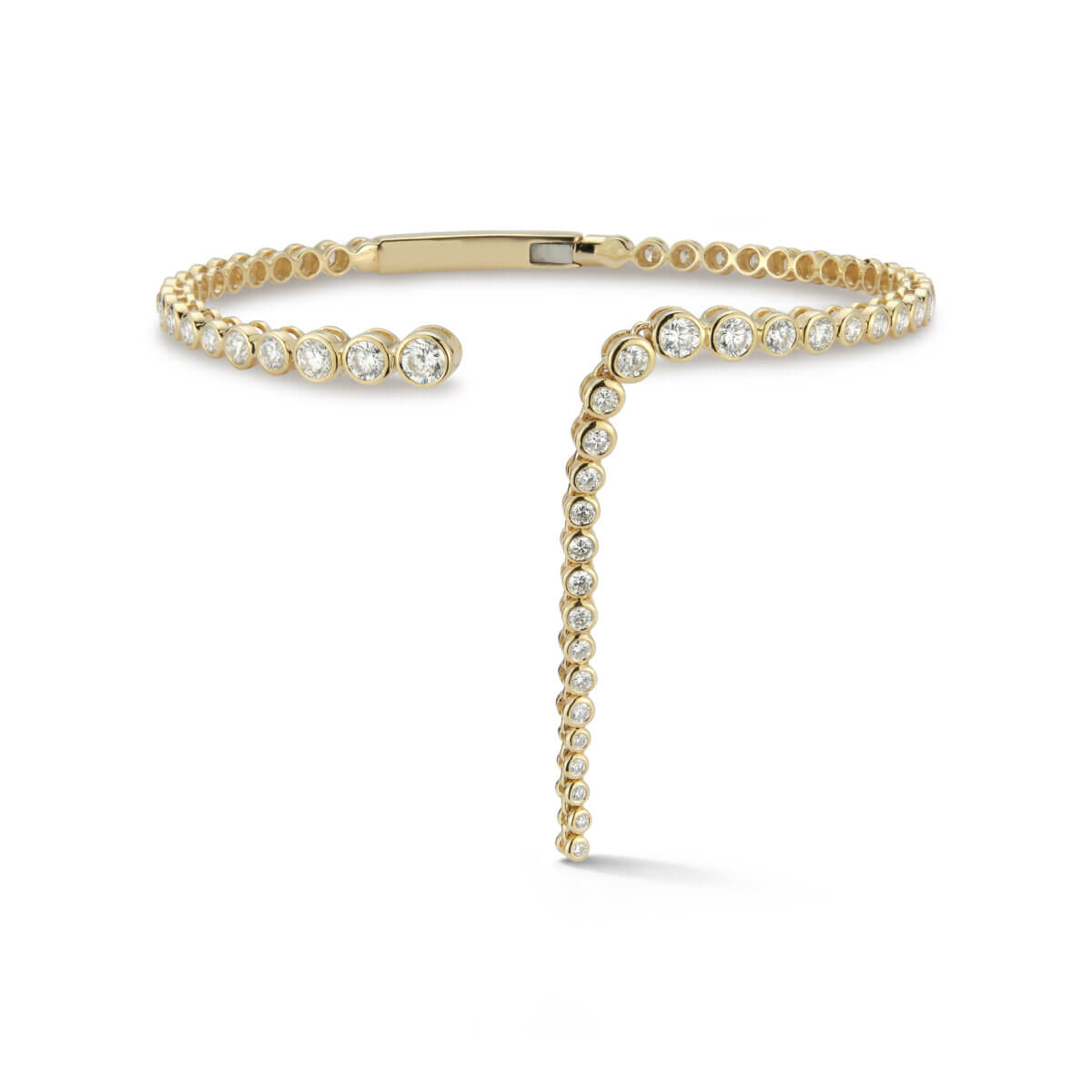 As has been the case over the course of her career, celebrities, stylists, and the glossies have felt the tidal pull of her work. ONDYN has appeared in magazines like VOGUE, ELLE, Town & Country, Cosmopolitan and Harper's BAZAAR, and has been spotted on Keke Palmer, Jess Hart, Doja Cat, and many others. Below, Latest Revival connects with Famiglietti to talk bioluminescence, megawatt sparkles, and the Corinne Day days.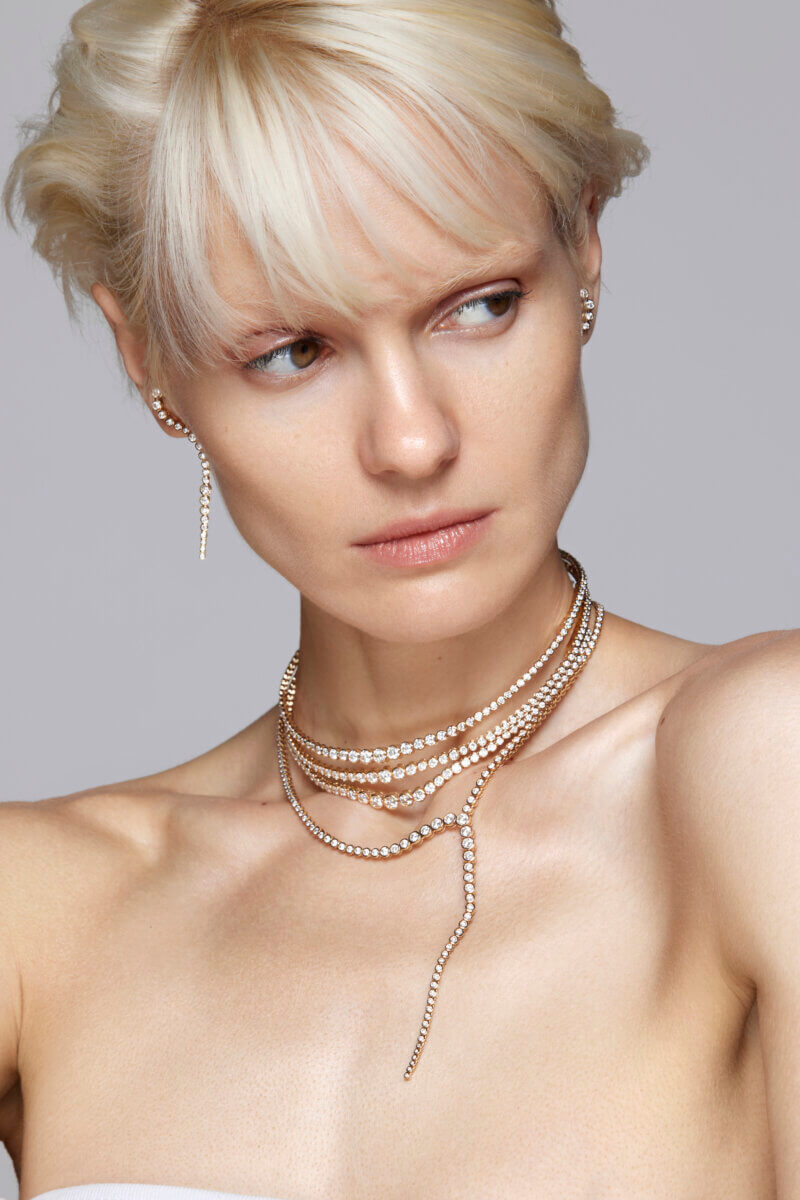 Apologies if you've answered this many times before, but what's the origin of the ONDYN name?
ONDYN is a take on the spelling of "Ondine," a water goddess from a French fable, and also a word meaning "wave of water."
Tell me more about this time living on a sailboat that inspired your fascination with water. 
It was in 2002 and 2003. My partner at the time and I loved sailing. It was the first time I got to experience nature's beauty on such an intimate level. Traveling at night with the sea like glass and the dolphins following the nose of our boat, covered in glowing bioluminescent algae was awe-inspiring. The course was along the Mediterranean Sea, through France, Spain, and Italy. After two years on the water, I missed my family and my city and eventually made my way back.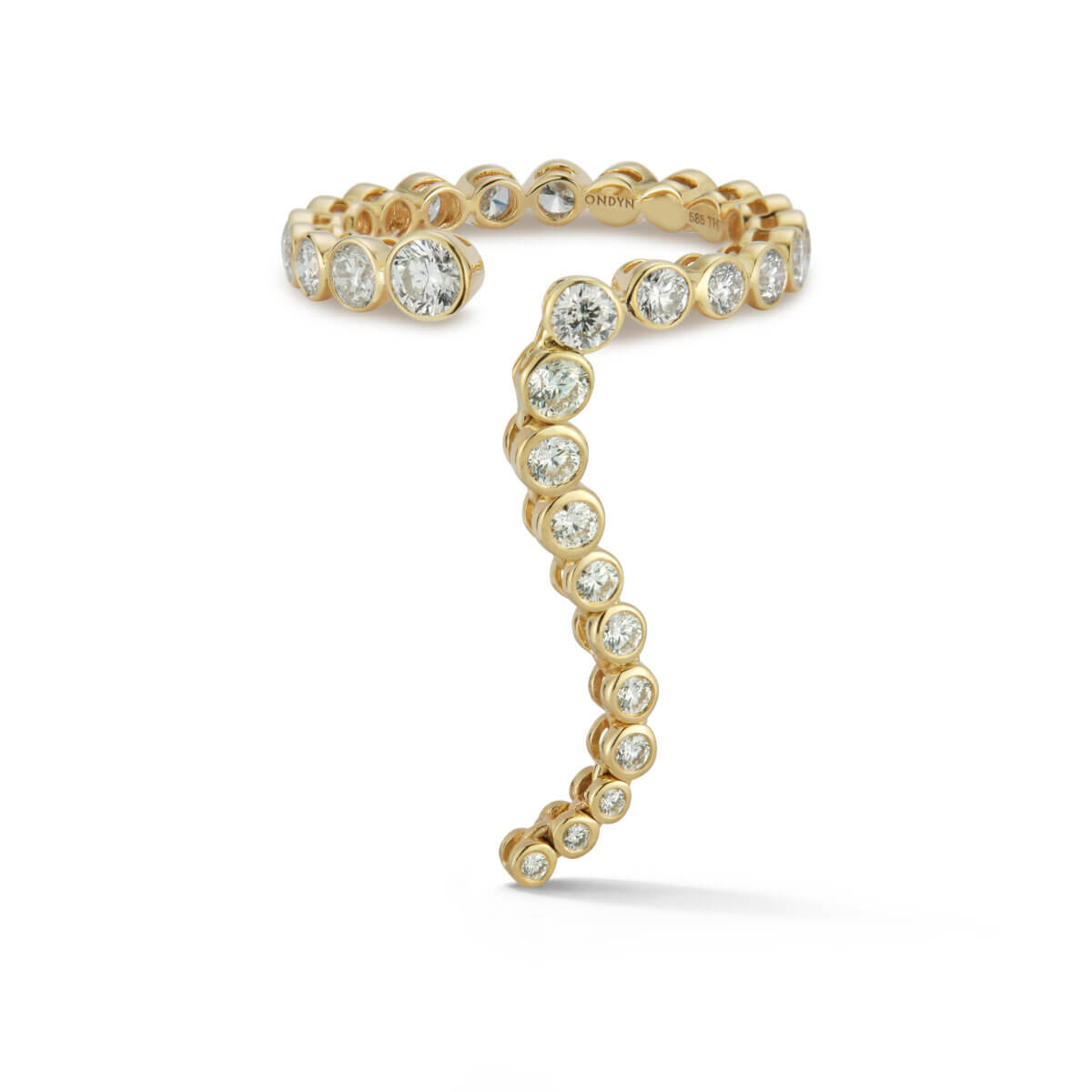 Did growing up in New York City shape your aesthetic?
How could it not? Growing up in one of the best cities in the world afforded me the opportunity to constantly observe the very finest in aesthetics—from art and architecture, to fashion and style. It's all helped shape who I am today in many ways.
What fashion were you most drawn to as a teenager here?  
90's fashion was a time of exploration and individuality, which I'm most grateful for of my teenage years. I'd say Kate Moss was my fashion icon then—the Corinne Day days.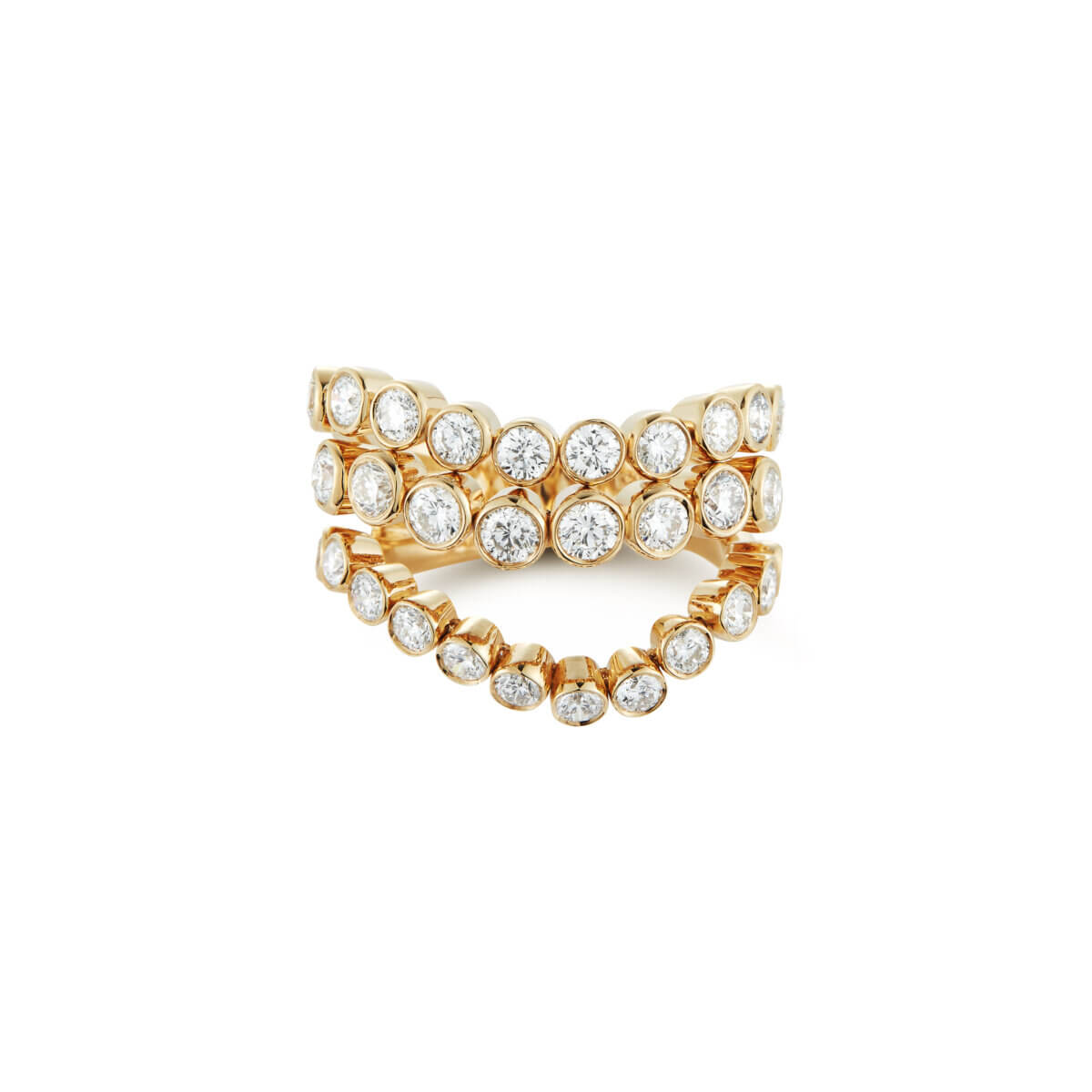 Do you have any specific memories from either of your parent's boutiques?
At my mother's boutique that she had for over 20 years, I have visions of the most elegant, sophisticated women one could ever imagine. Women with style and that certain je ne sais quoi which will forever be my inspiration and motivation.
Were there any crucial lessons about design that you learned directly from them or through osmosis?
My mother's designs used a lot of silk and chiffons, specifically bias cuts. There was an art in the way the piece draped and moved with the female figure. I'm sure that sparked my love for creating the perfect pieces for a woman's body.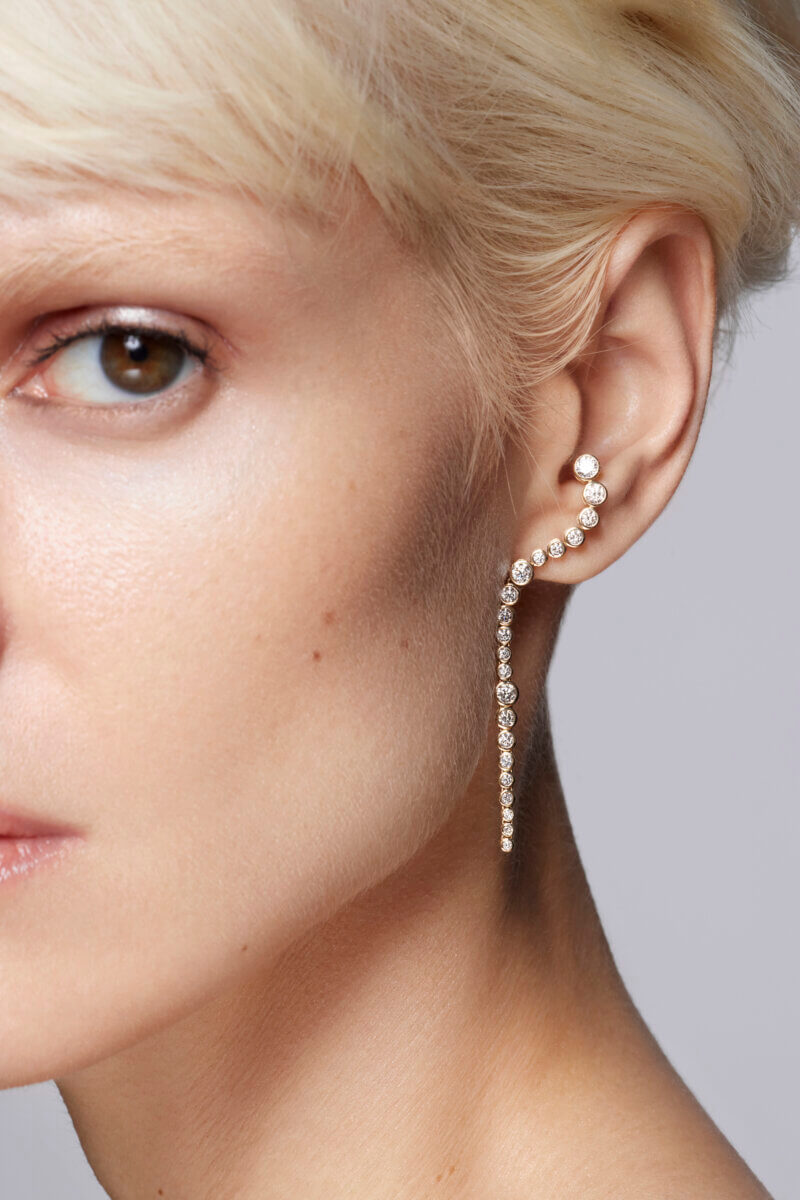 For ONDYN, how do you approach imbuing your pieces with a kinetic quality? 
I like a piece to feel fluid and not rigid, so we've constructed an innovative hidden mechanism which allows our diamonds to move forward, backwards, and side to side.
Where and how do you envision these pieces being worn?
From the boardroom to martini hour to the red carpet. As bold as some of the pieces can be, they are all designed to be worn, not to wear you.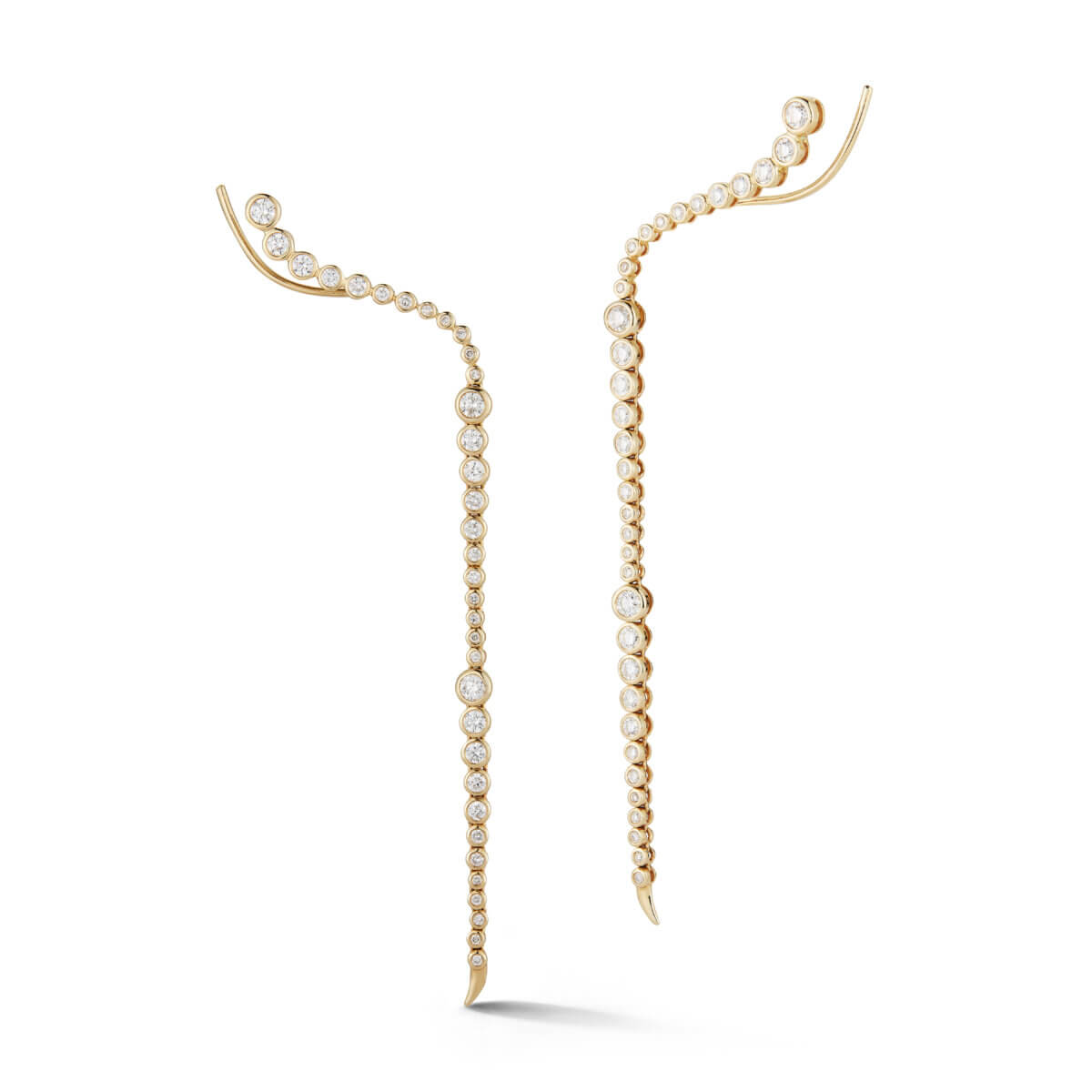 What about diamonds make them a natural fit for the ONDYN collection?
There's a purity and simplicity to diamonds, while also simultaneously having a strength and megawatt sparkle that lends themselves beautifully to the streamlined designs of ONDYN.
Is there an effect you've wanted to recreate but are still working on figuring out how to do it?
We have this incredible diamond mesh in the workings. We're working through the ingenuity to create a piece that has the feel of a silk fabric, but is made out of diamonds.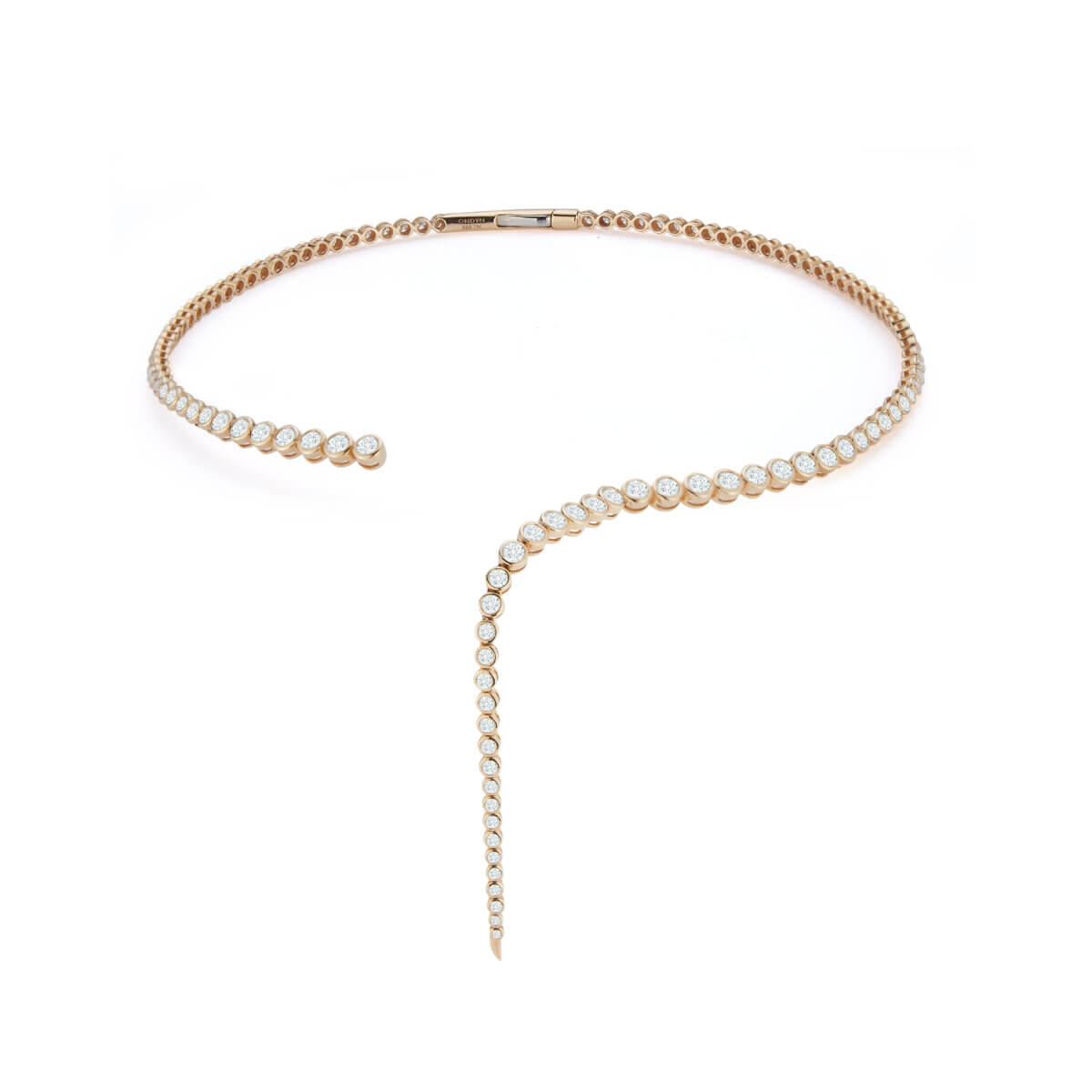 I've read you have a home in Sag Harbor, what time of day do you most enjoy being on or near the water there?
We do, and we're just a two-minute walk to the water. I would really have to say I love all times of the day, but the sunsets in the summer on the bay are simply breathtaking.
Hard to narrow it down, I'm sure, but if ONDYN was a song, what would it be?
I love that! If ONDYN were a song it would be Sade's "No Ordinary Love." It is powerful, sexy and somehow forever modern.
Images provided by ONDYN, 2023;Creative Direction and Styling: Jennifer Csengody-Novetsky; Production: JLCN Creative Consulting; Photography: Miguel Herrera; Digital Tech Assistant: Fernando Rodriguez; Hair & Makeup: Alex Lledo; Model: Nora Vrai