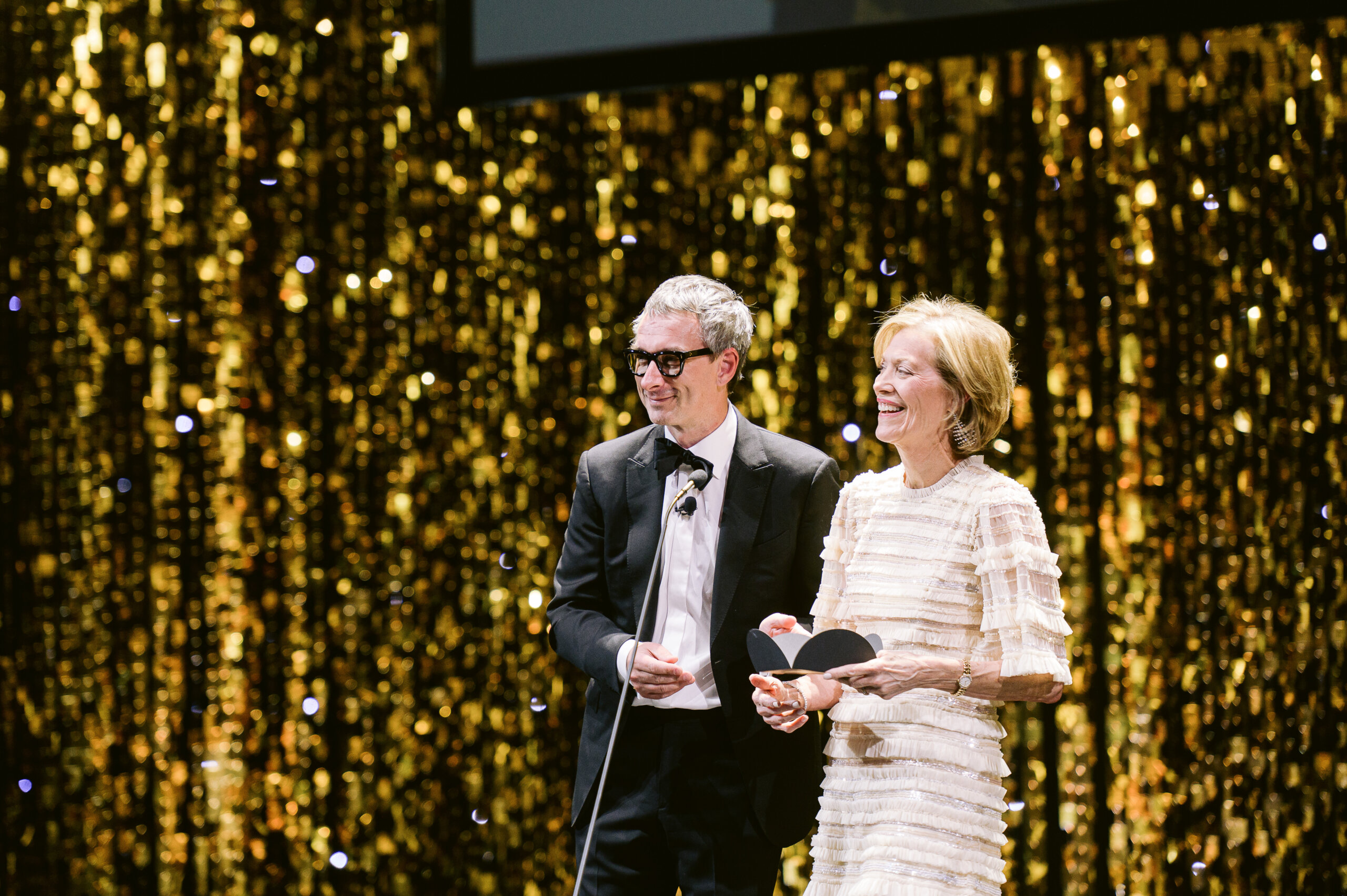 June 27, 2023
O
ur COUTURE Design Awards traditionally garners an influx of attention and excitement well after the official event in the spectacular Encore Theater. Media from across the globe reach out asking for the press release announcing the finalists and winners, and the designers and brands who took home these prestigious accolades leverage their accomplishments with their retail partners and press long after we've all left Las Vegas. This year, enthusiasm about the awards has been stronger than ever. The Reel we created to announce the winners on Instagram in real time has received over 20,000 views to date and, close to a month later, we are still fielding media requests for information and images regarding the design competition.
This year, enthusiasm about the awards has been stronger than ever.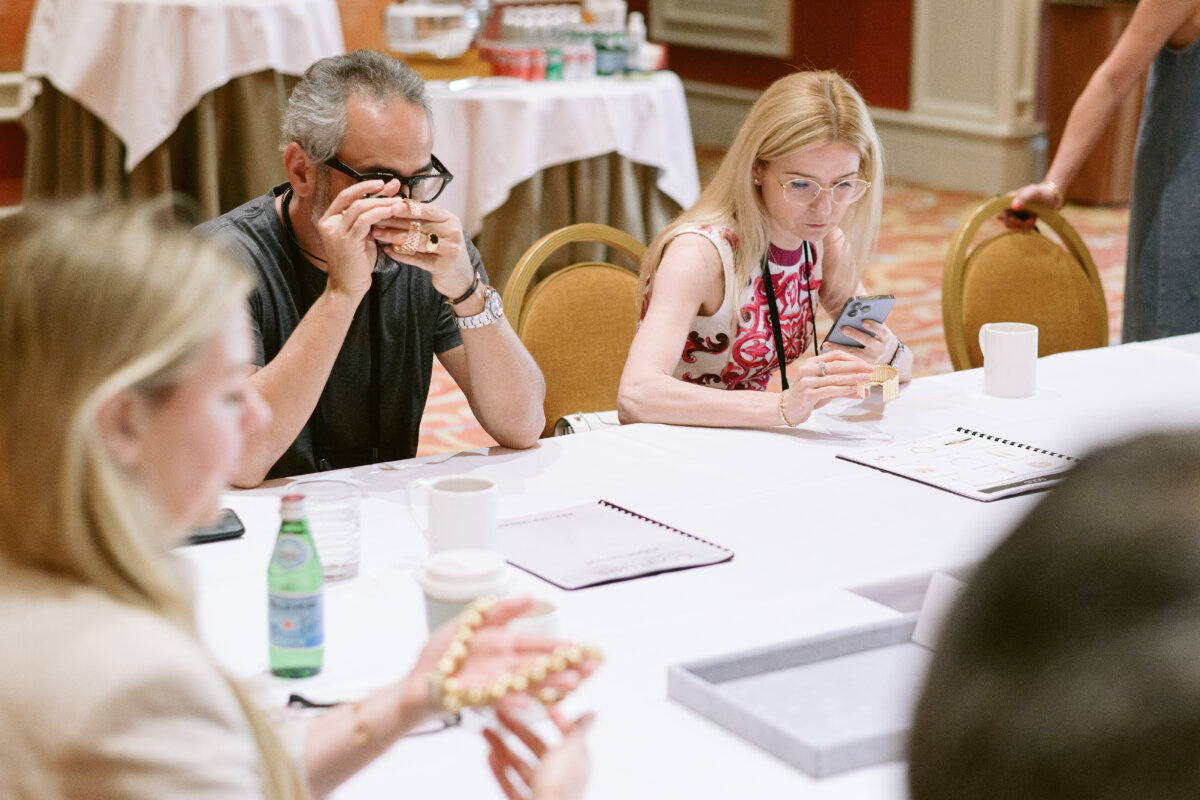 While there's nothing like experiencing the excitement of our COUTURE Design Awards event in person, in response to the increased fervor over this year's competition, we decided to dive a little deeper into the evening, discuss some of the behind-the-scenes details of the winning pieces and share some highlights from the judging process in an ongoing story here. We will continue to add to this over the course of the next few weeks.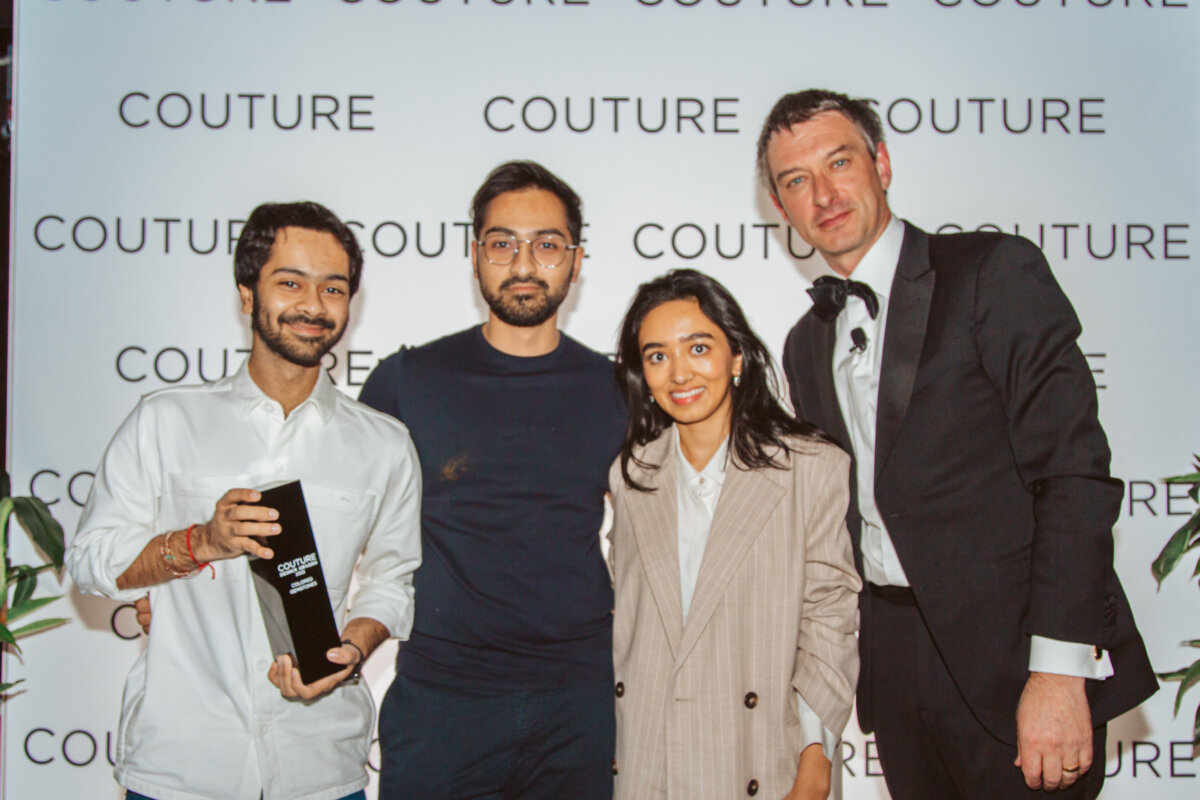 Best in Colored Gemstones Below $40,000 Retail: Kamyen
Family-run jewelers, Kamyen, boasts three generations of expertise in diamonds and colored gemstones. They strive to procure the most exquisite stones in the world and utilize these gifts of nature in exceptional pieces that are intended to be treasured for generations to come.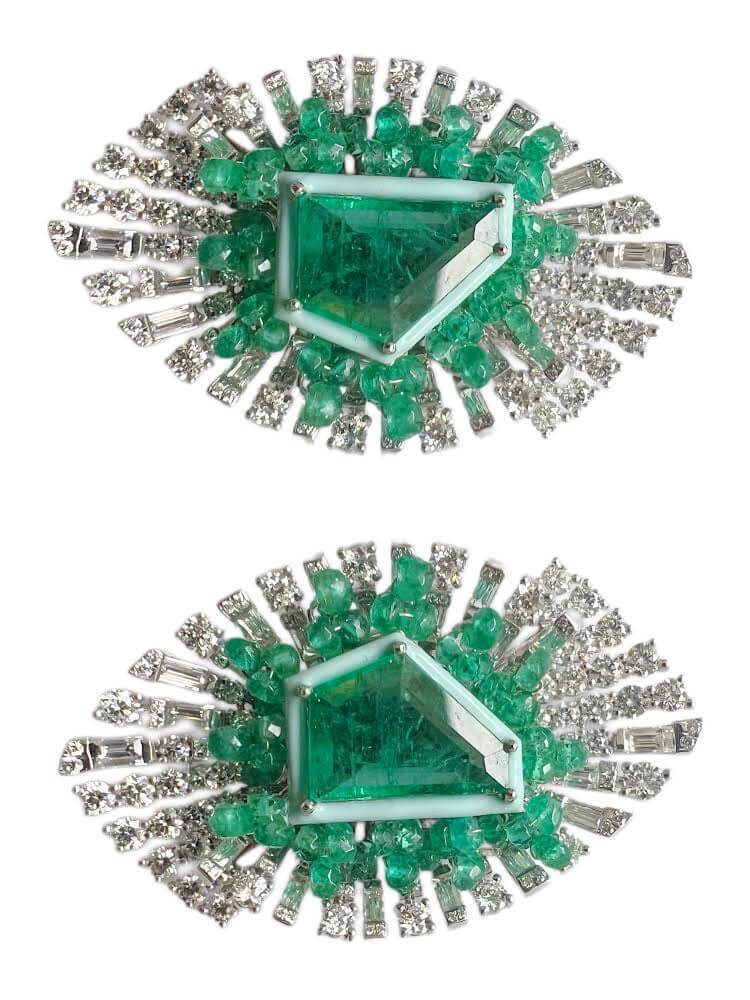 Kamyen won the first award of the evening in the Best in Colored Gemstones Below $40,000 Retail category. While the competition was intense, with several pieces sparking in-depth deliberation among the judges, they ultimately decided that the earrings Kamyen submitted, which feature Fancy shape Zambian emeralds with a "hint" of turquoise enamel and diamonds set in 18k gold, resulted in a very big look at a very nice price point.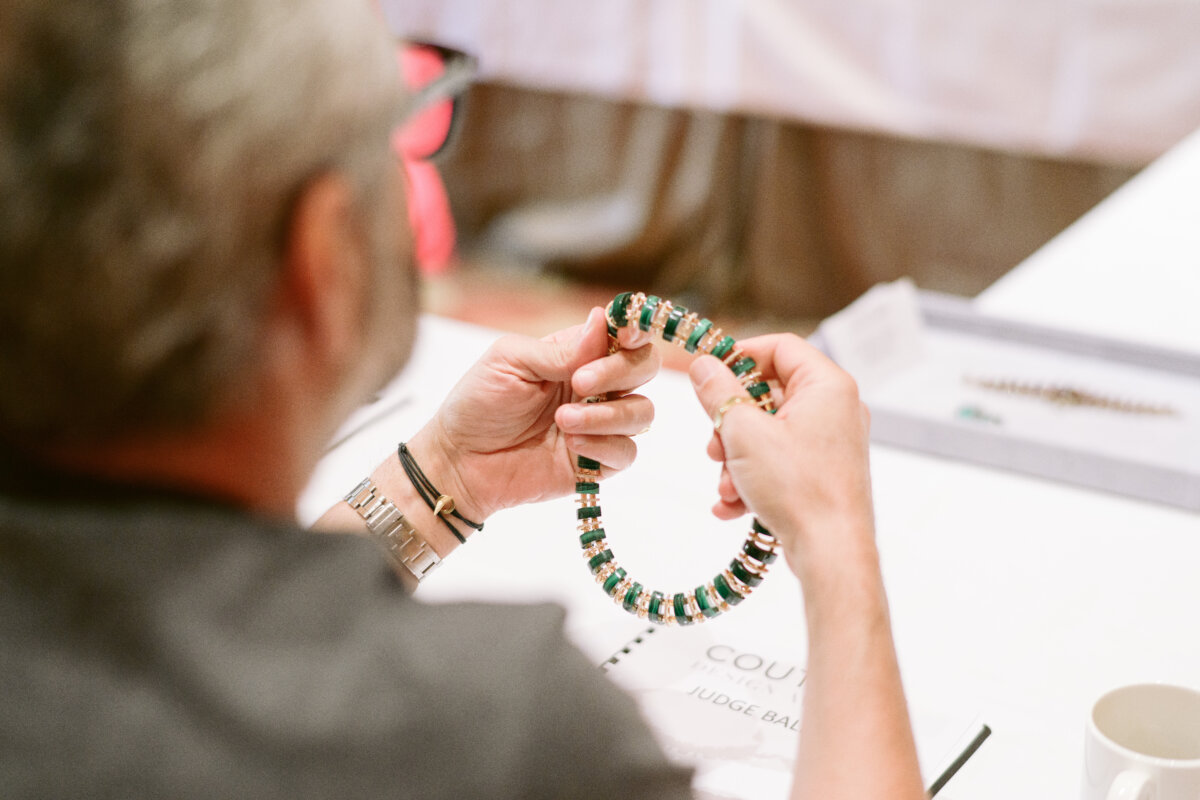 Best in Colored Gemstones Above $40,000 Retail: Aletto Brothers
With a family legacy that dates back to 1889, Aletto Brothers is still family owned and operated. Now run by the fourth generation of the business, Alfredo, and his children, Alberto, Luigi, Mario and Amy, the brand continues to marry traditional, Italian artistry with innovative fabrication techniques for an aesthetic that is a fresh blend of both classic and contemporary.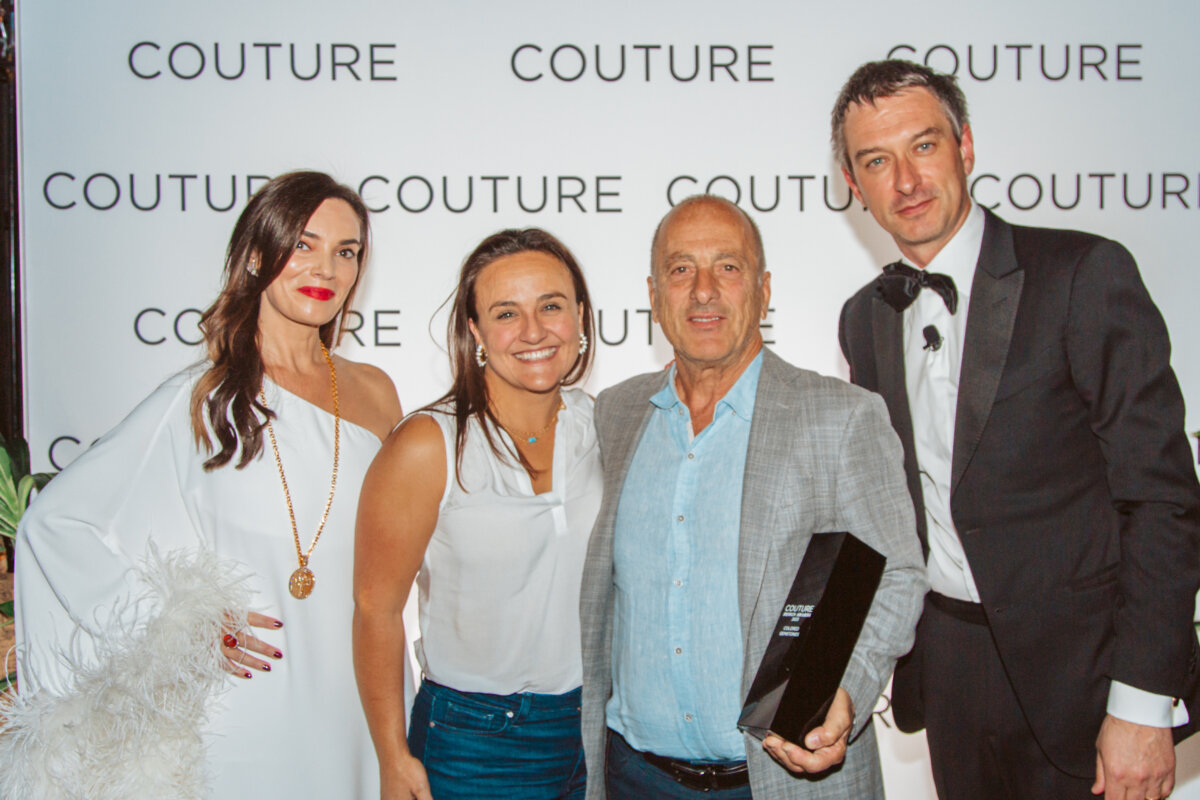 The carved malachite and diamond bridge collar necklace that took home the prize in this year's Best in Colored Gemstones Above $40,000 Retail category impressed the judges with its elegant simplicity and exceptional fabrication, and the group all agreed it provided a big look commiserate with its price tag.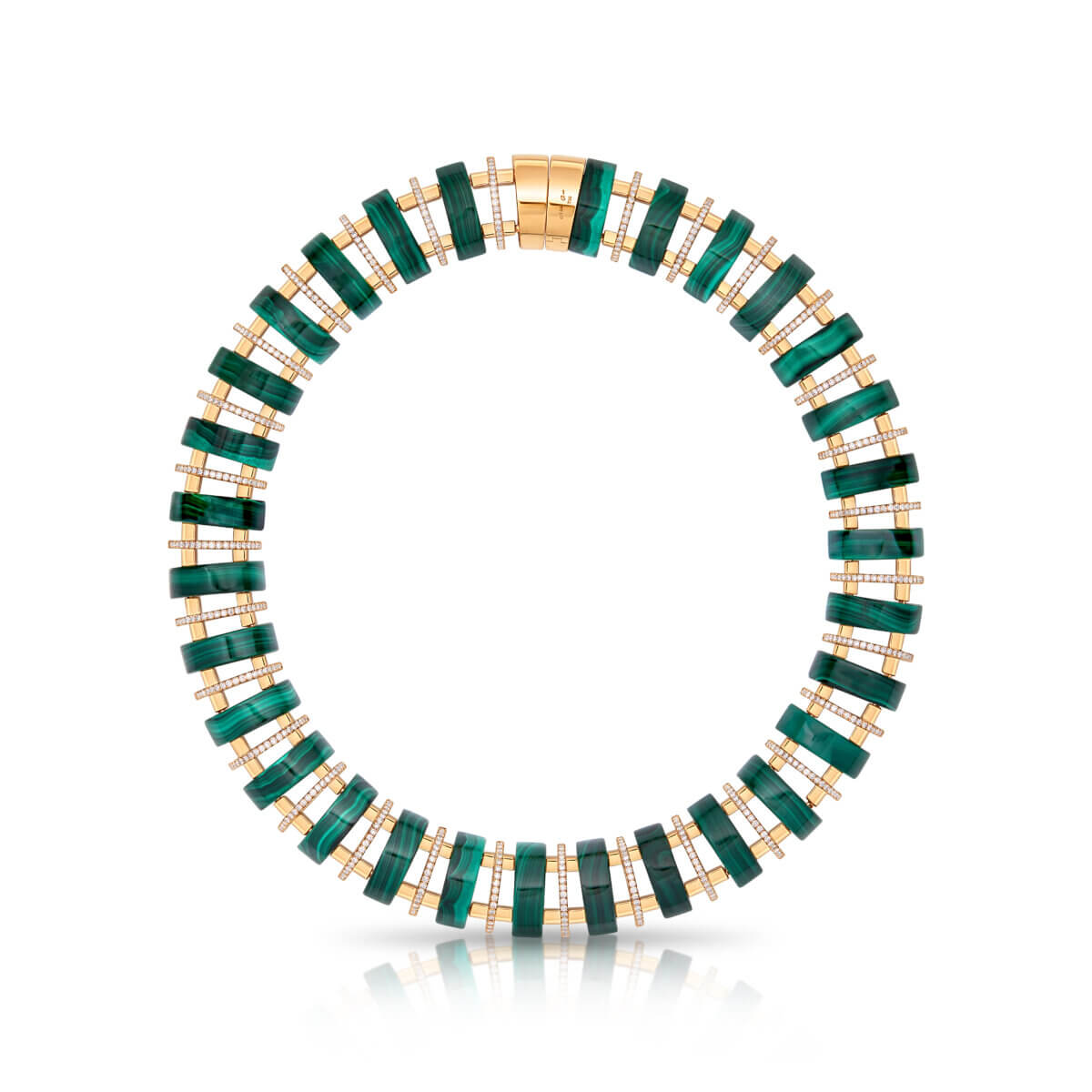 According to Amy, the impression the judges had was in alignment with the thoughtfulness and intention behind the piece, "We feel what makes our piece special is its true simplicity yet bold look and like all of our jewelry, it was imagined, developed and executed all in our shop."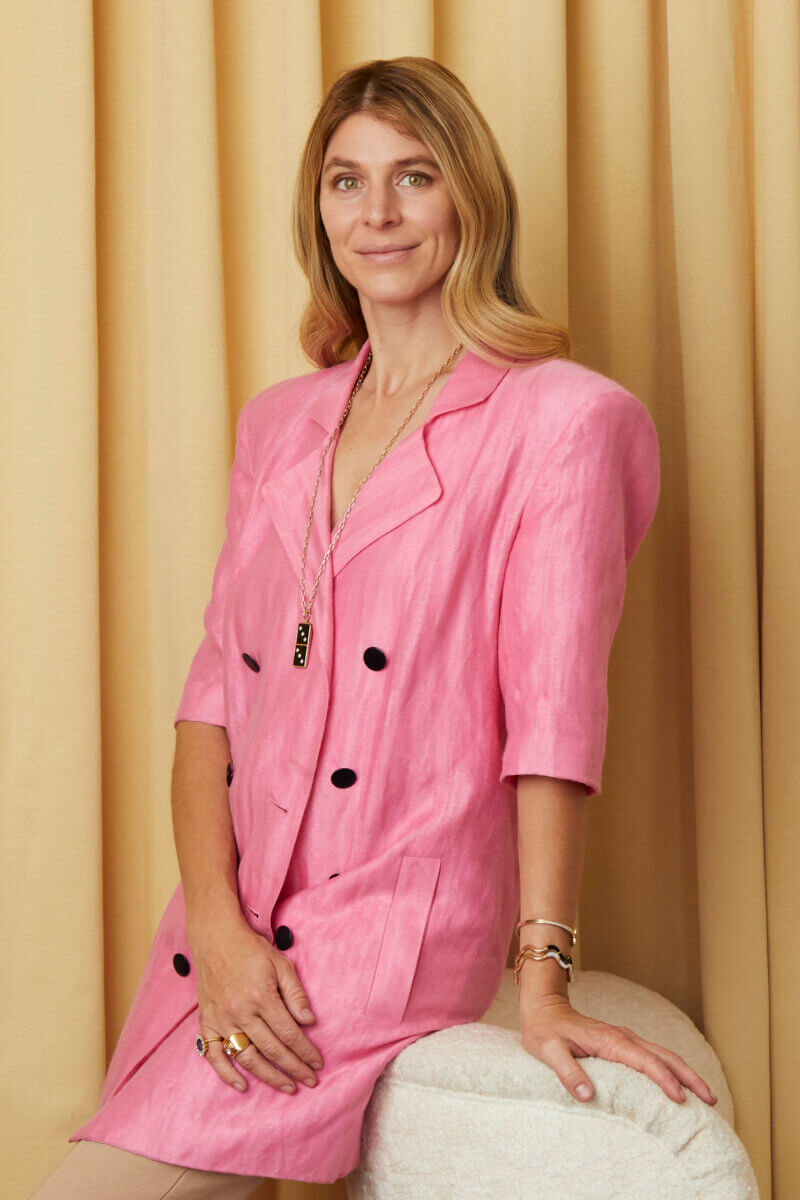 Best in Bridal: Retrouvaí for For Future Reference
When thinking about bold, imaginative design, bridal jewelry often gets dismissed. After all, bridal jewelry is the most sentimental purchase one will make, and so classic is often prioritized over contemporary. Yet somehow, the COUTURE designers and brands who submit pieces in our Best in Bridal category are able to create pieces to be worn for a lifetime that still feel fresh and modern. Designer Kristy Stone has built her entire Retrouvaí brand on this concept, consistently designing heirloom-worthy jewels that evoke a unique combination of playful and important. Her winning design in the Best in Bridal Category was from her fresh-off-the-bench Loop collection and features a vintage diamond that essentially dictated the direction of her winning design.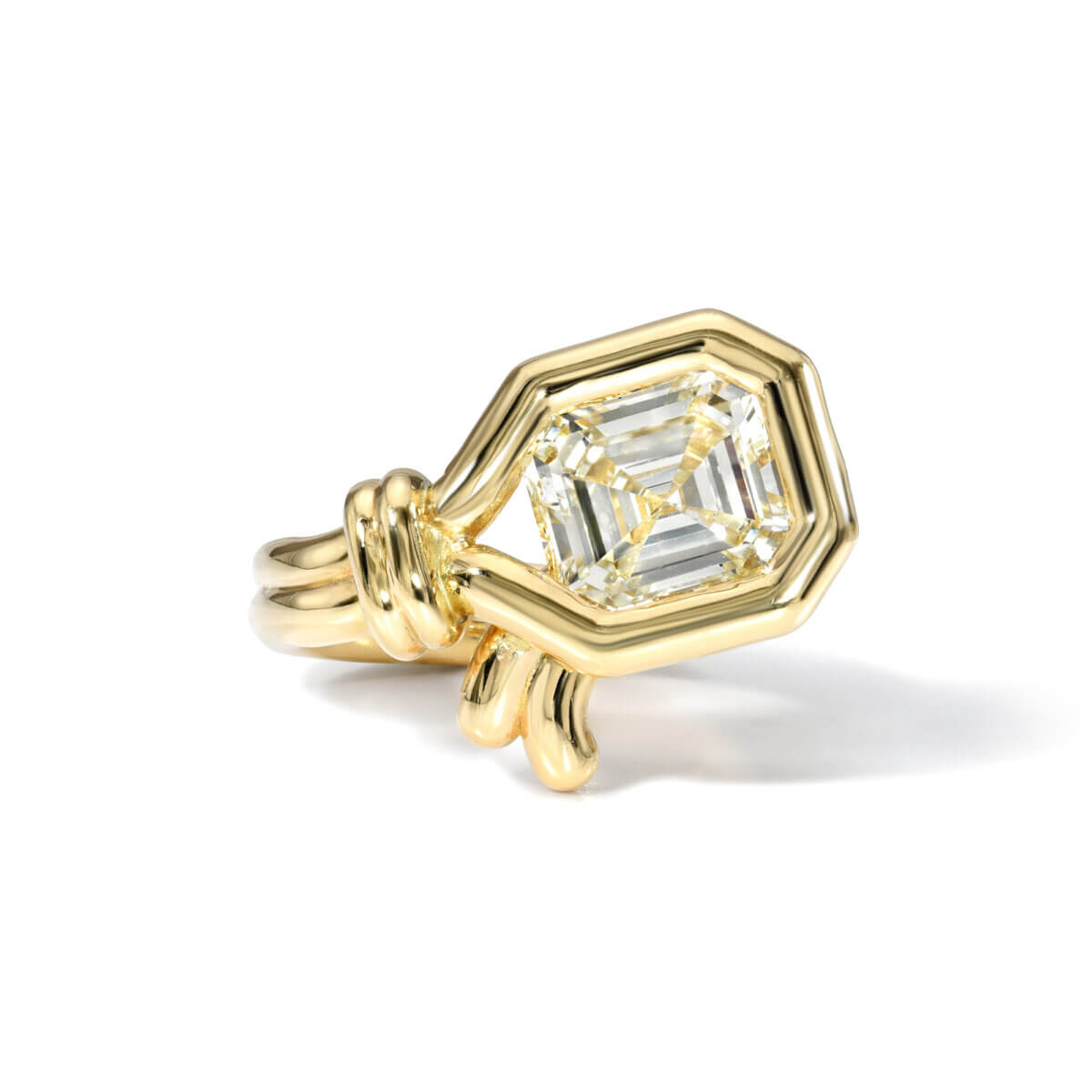 "I was obsessed with the vintage emerald cut diamond for myself from the moment I saw it," Kristy explains. "Randy from Poli Trading Co. sent me a video of the stone without any description, and I immediately went to pick it up. I had created an entirely different setting for the stone and bailed on it halfway, knowing the design would come naturally. I had been holding on to the loose diamond for about six months before the creation of the Loop setting, and it finally feels home. It's a reminder that good things come to those who wait!"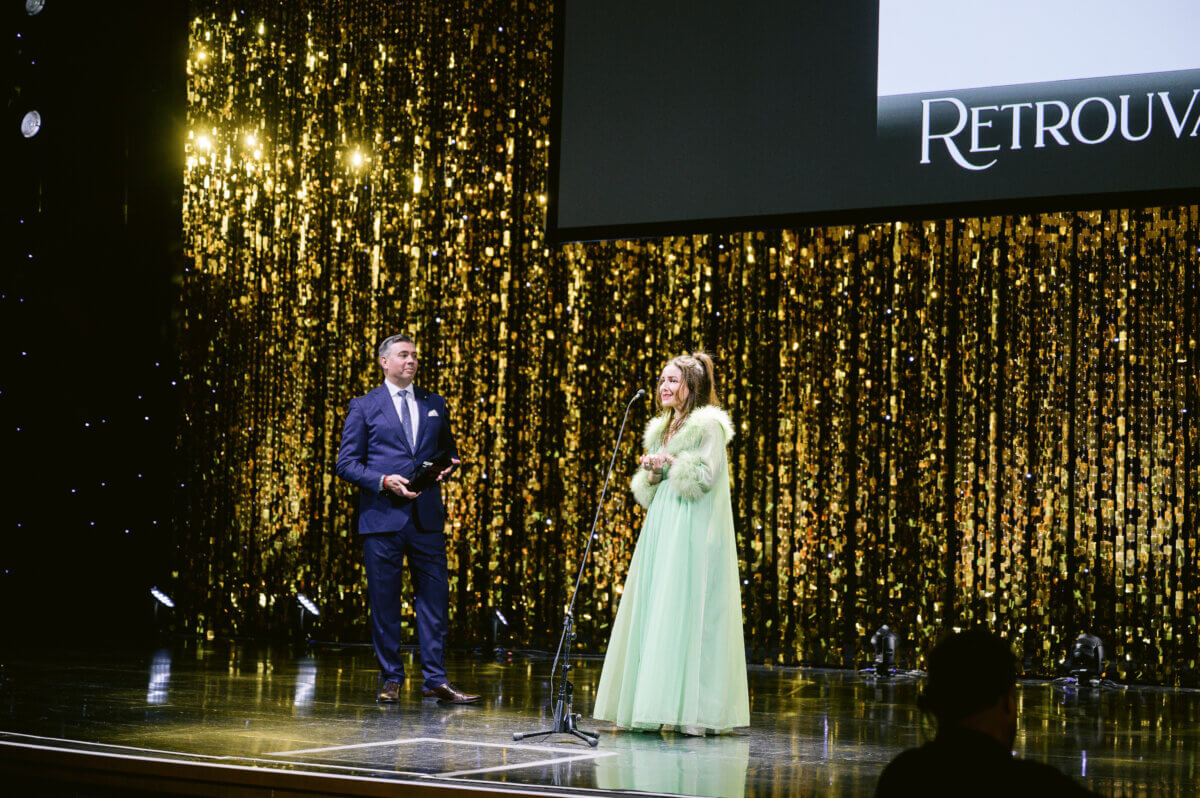 Kristy was not in attendance at COUTURE this year because she gave birth to a little baby girl (!!!), so Randi Molofsky of For Future Reference took the stage to accept the award, saying, "I've had the great honor of representing Kirsty for the last 6 years in my showroom. She's an incredible designer and this is her third win in a row at the Design Awards, which should let you know she's a supreme talent. I'm thrilled for her and on her behalf, she says thank you!"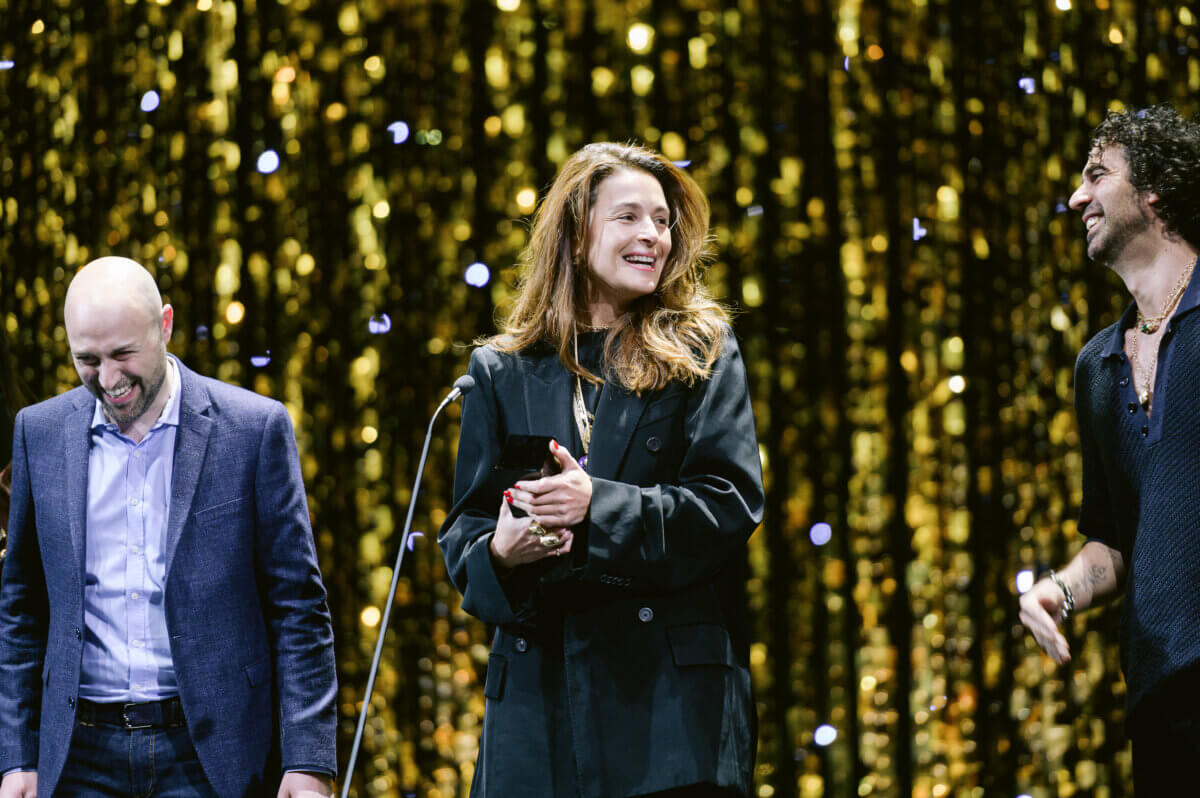 Best in Innovative: Marie Lichtenberg
Our Best in Innovative category always sparks the most animated discourse among our judges. "What does 'innovative' mean?" is a focal point of the conversation, and as they review the pieces, loop the work and begin to unpack its functionality, they keep returning to that question. This year, the three finalists in the Best in Innovative category were all unique in the ways in which they answered this question. PERUFFO (who won in the Best in Debuting category, more on that later) impressed them with the scale and complexity in the craftsmanship of their 18k and blue agate Stud necklace, and Studio Renn's Seed Leaf bracelet, when looked at under a loop, was impressive in how it draws the eye with the reflection of diamonds on its mirrored yellow gold surface. Ultimately, however, it was its ability to spark joy that clinched the win for Marie Lichtenberg's Magic 8 Ball pendant.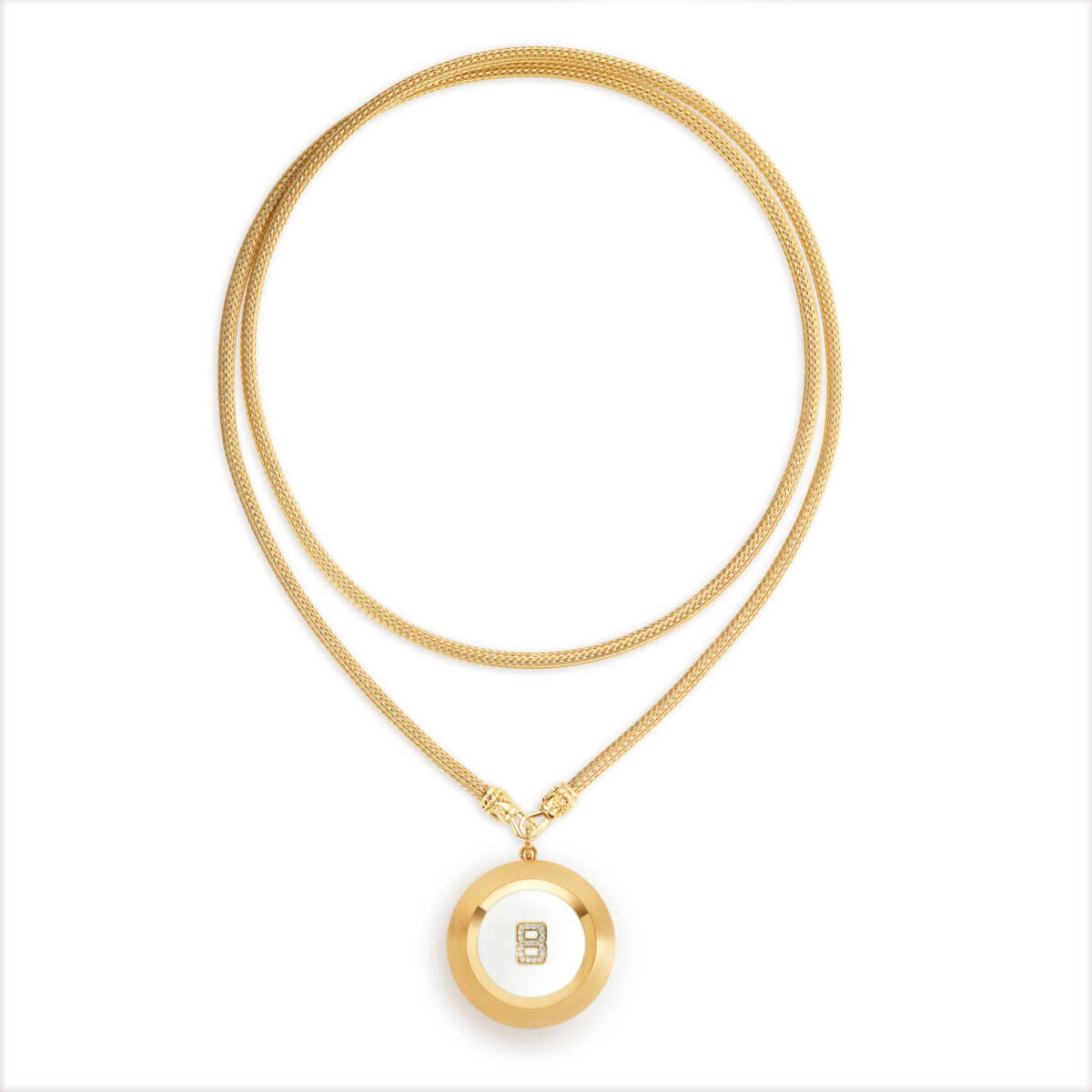 Designed in conjunction with toy maker, Mattel, the piece functions exactly like the iconic Magic 8 Ball. When holding the miniature version of the 8 ball, it feels second nature to ask it a question, shake it, and wait for the answer to magically appear. This happened several times in the judges room, resulting in bursts of laughter and glee.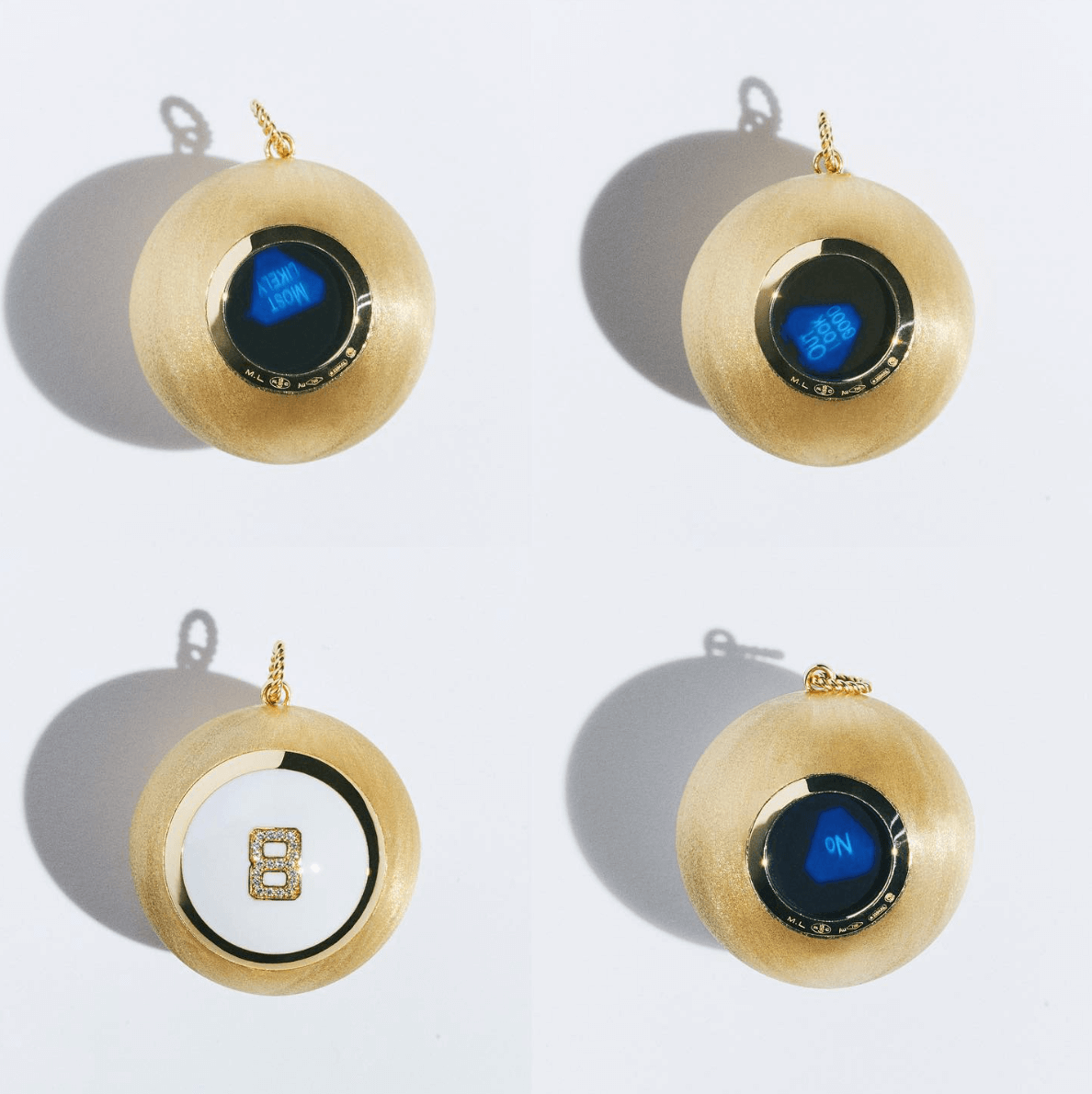 Designer Ara Vartanian, who was one of this year's judges, grew up in Brazil and had no point of reference for the original toy, yet when he witnessed the delight the piece brought, he proclaimed "This! This is what jewelry is supposed to do! It's bringing you all so much happiness!"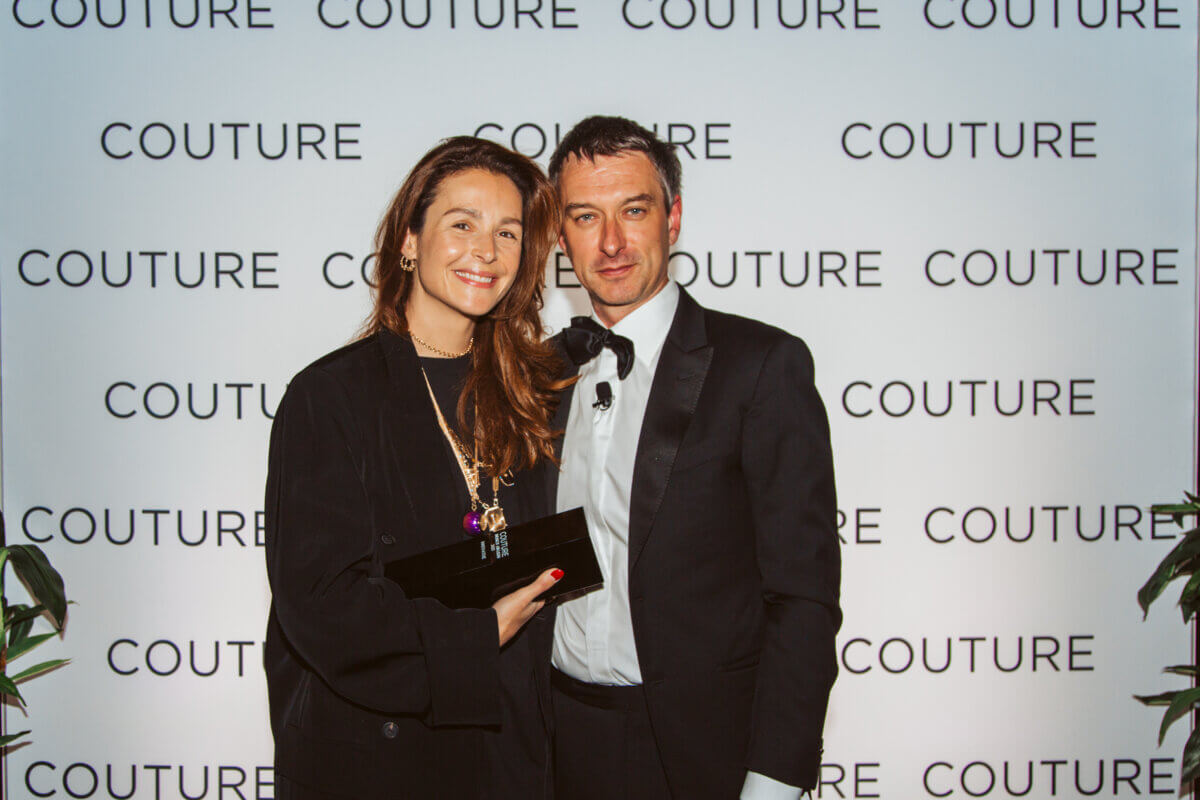 "We are filled with joy and gratitude," the Paris-based designer enthused when asked about her big win. "We are newcomers in this industry, and this Innovation award has given us wings. It is an important prize for the profession, of course, but you cannot know the happiness we all felt upon learning of our nomination. This award gives us confidence and pushes us to believe in our vision, to believe in the story of our brand.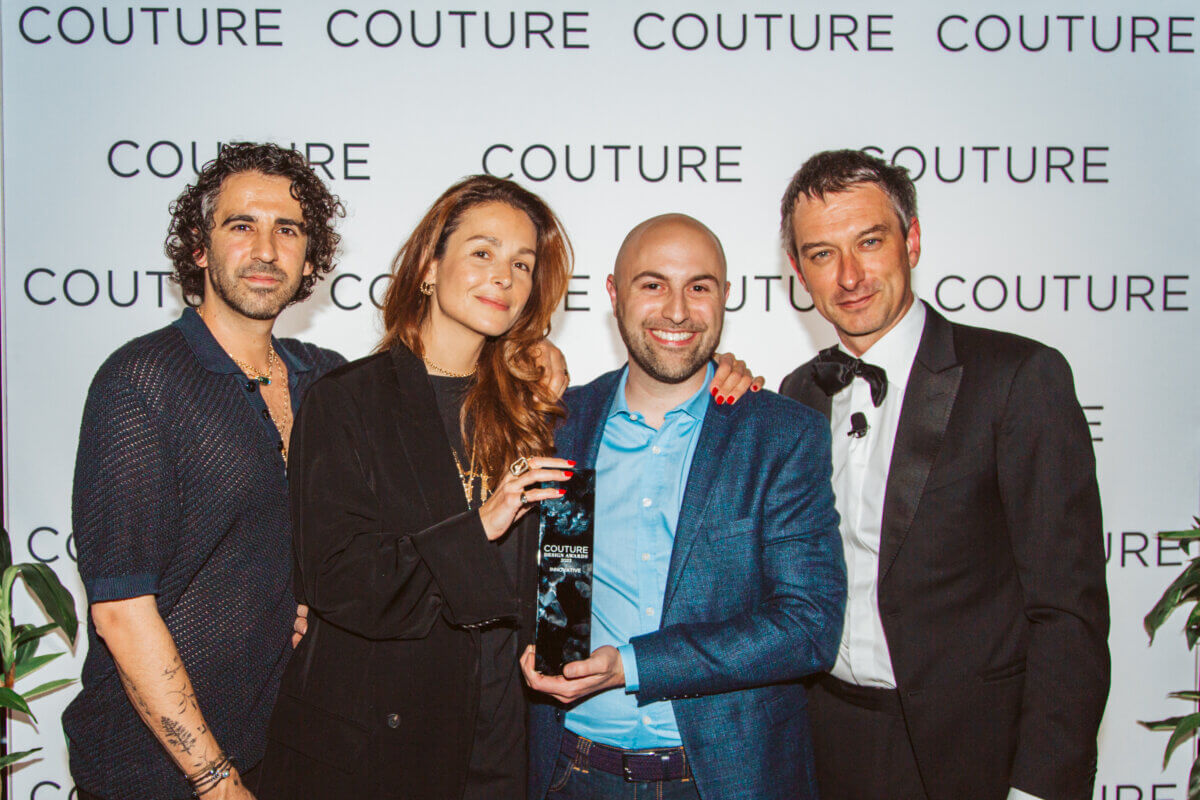 "COUTURE is an event that we passionately love working on, and this recognition you have bestowed upon us is the most incredible satisfaction we have felt since our beginnings. The Best in Debuting Award last year was a shock, but this second prize reaffirms that we must continue to believe in our lucky star. We have an incredible feeling of having given our best and being rewarded by our peers, whom we admire so much. It is priceless."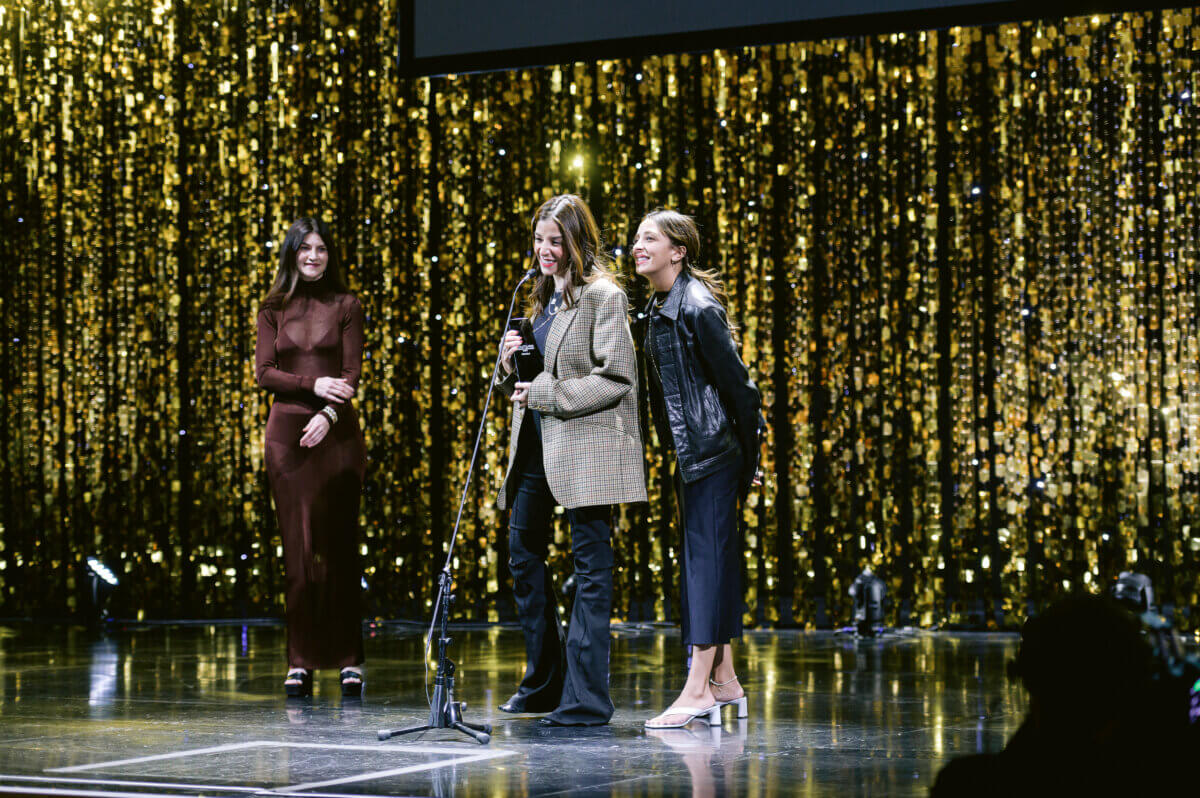 Best in Pearls: Persée Paris
The Best in Pearls category had an especially strong showing this year. We were, once again, reminded that these are not our grandmother's pearls, with designers and brands showcasing an incredible level of creativity in utilizing these sublime stones. While Amrapali London and NOMIS were lauded for their unique submissions, Amrapali London for their one-of-a-kind Rajasthan Necklace and Ukrainian-based NOMIS for their necklace with an encrypted binary code translating to "freedom," the nod for the win was given to yet another French designer, Persée Paris.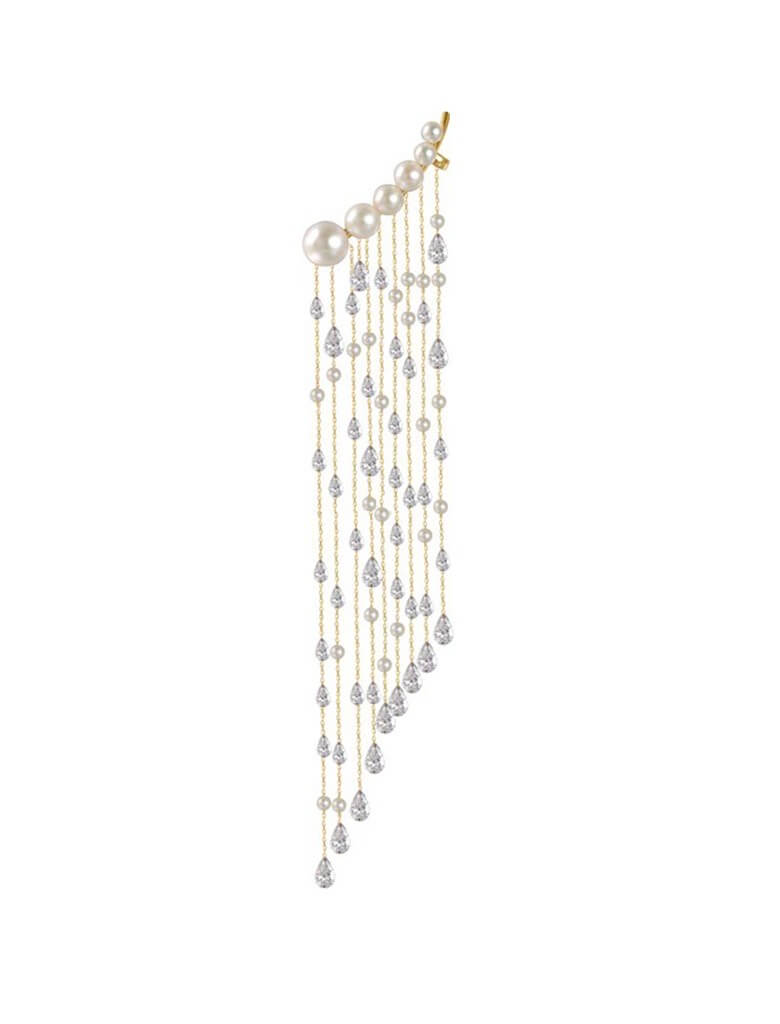 The brand's entry was an exquisite pair of ear cuffs featuring pearls and pear-shaped diamonds delicately connected by fine gold chains. Worn over the ear, each side of the earrings consist of an intricate arrangement of chains that gracefully cascade down like a gentle waterfall.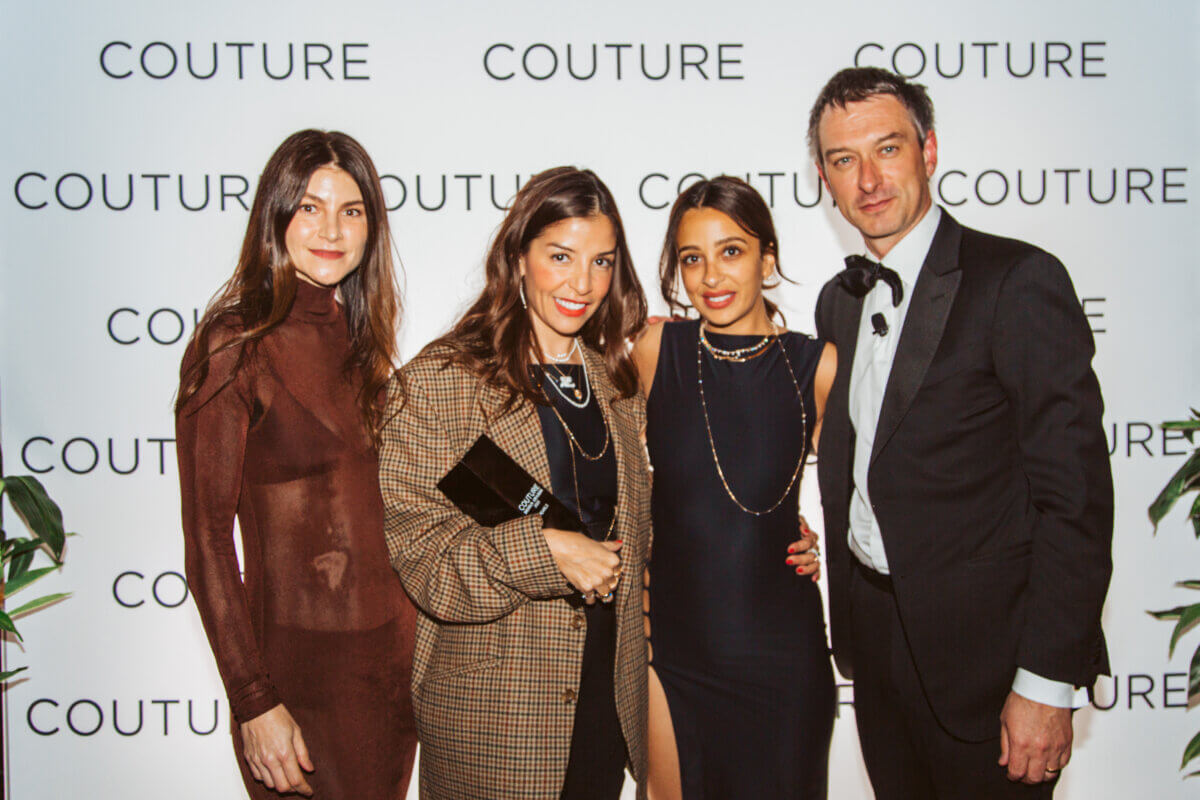 "The design of these ear cuffs draws inspiration from the mesmerizing interplay between light, movement, and nature," noted a statement from the brand. "The diamonds, meticulously set along the chains, capture and reflect light, creating a dazzling display of radiance. The pearls, carefully selected for their lustrous beauty, serve as focal points, exuding a sense of timeless elegance. This ear cuff design not only aims to adorn the ear but also to evoke a sense of confidence and empowerment in the wearer. The long chains symbolize the fluidity of movement and freedom, while the diamonds and pearls represent strength and grace."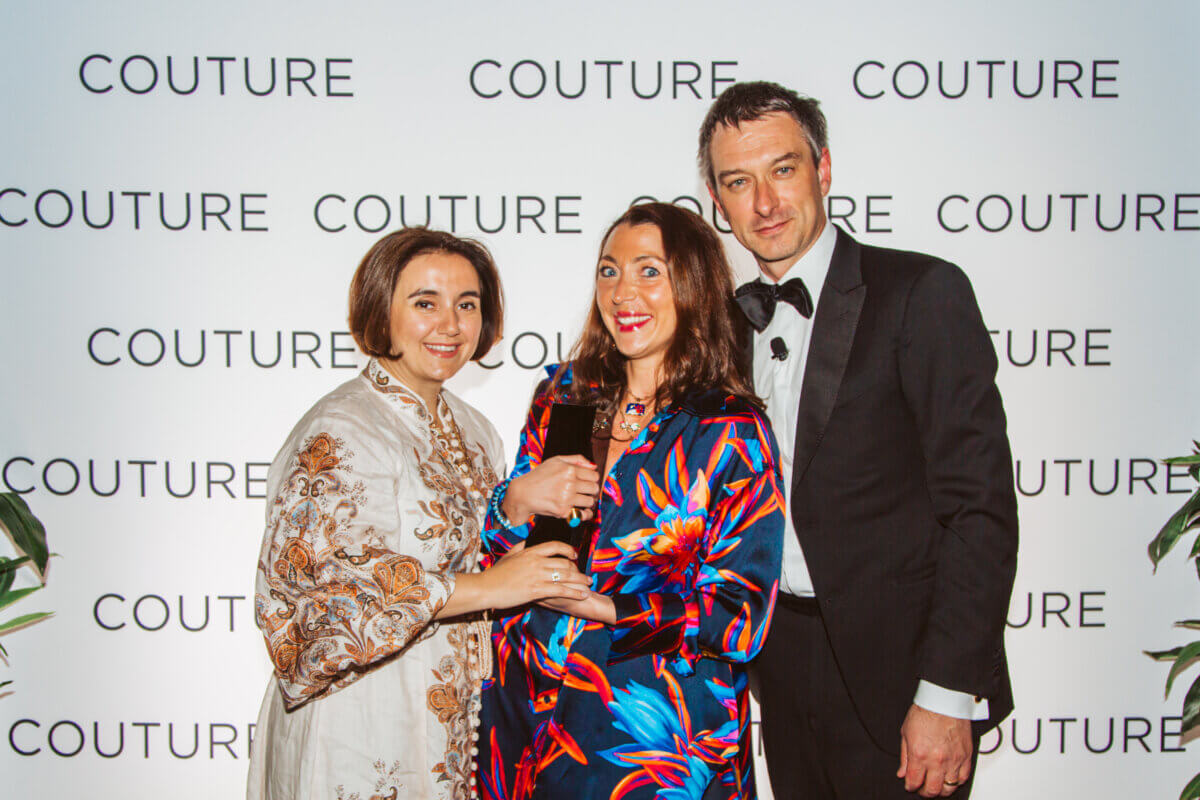 Best in Below $10,000 Retail: NeverNoT
This year marked the debut of our newest design award category, Best in Below $10,000 Retail. While we toyed around with coming up with a clever name for this new category, it was finally agreed upon that "under $10,000 retail" can mean something different for everybody. For some, this price point might represent the most important piece of jewelry they'll ever own, for others, it may represent a quick trip to their favorite jewelry store on a random Tuesday. Whatever it means to someone's pocketbook, all of the pieces entered were worthy of praise.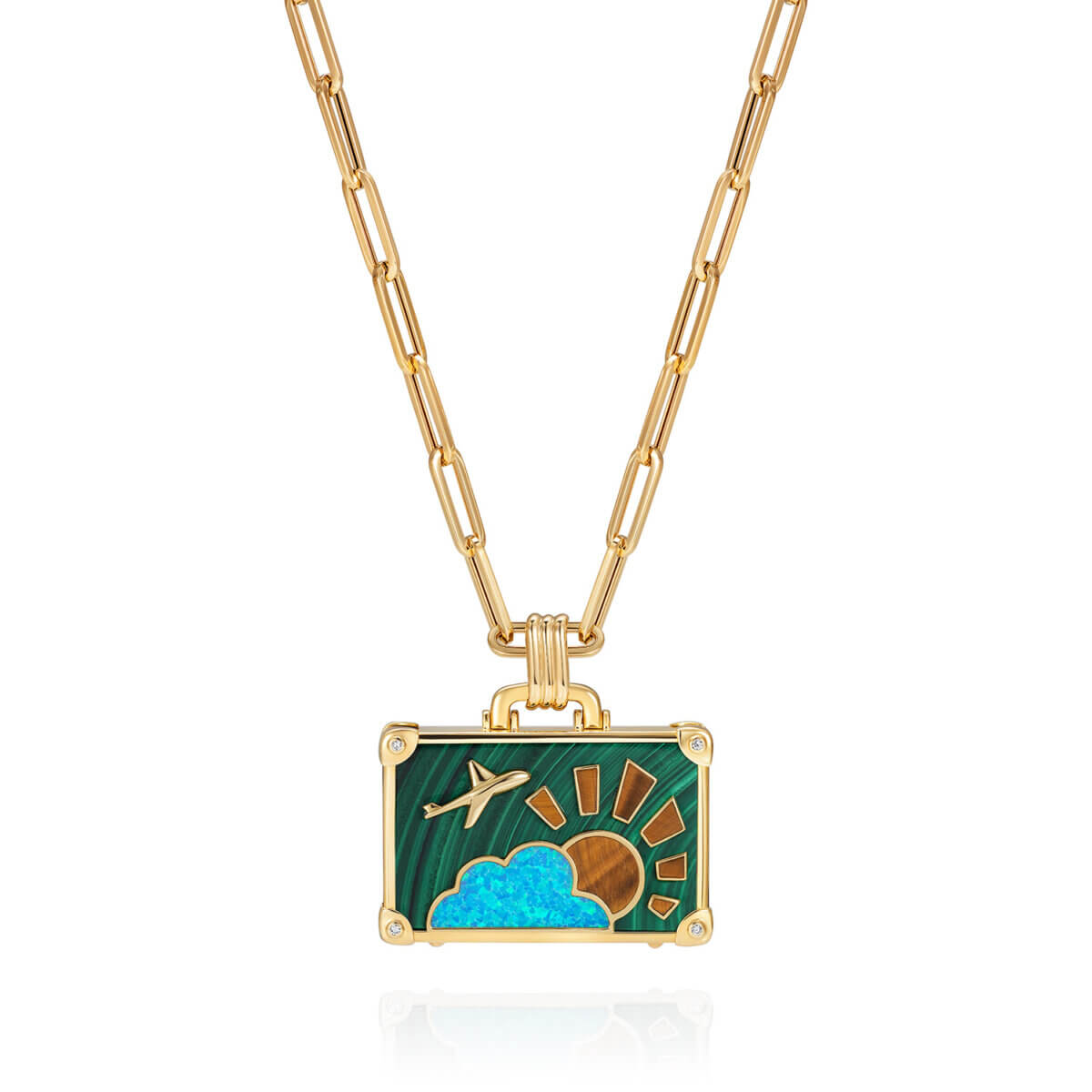 While there was tough competition among the finalists, NeverNoT, Stephen Webster and VAN @ MUSE, the whimsy and playfulness inherent in NeverNoT's Amazonian Adventures Suitcase featuring malachite, diamonds and tiger's eye won over the judges' hearts. They were not only delighted with its intricate design, they also thought it felt incredibly substantial for the price.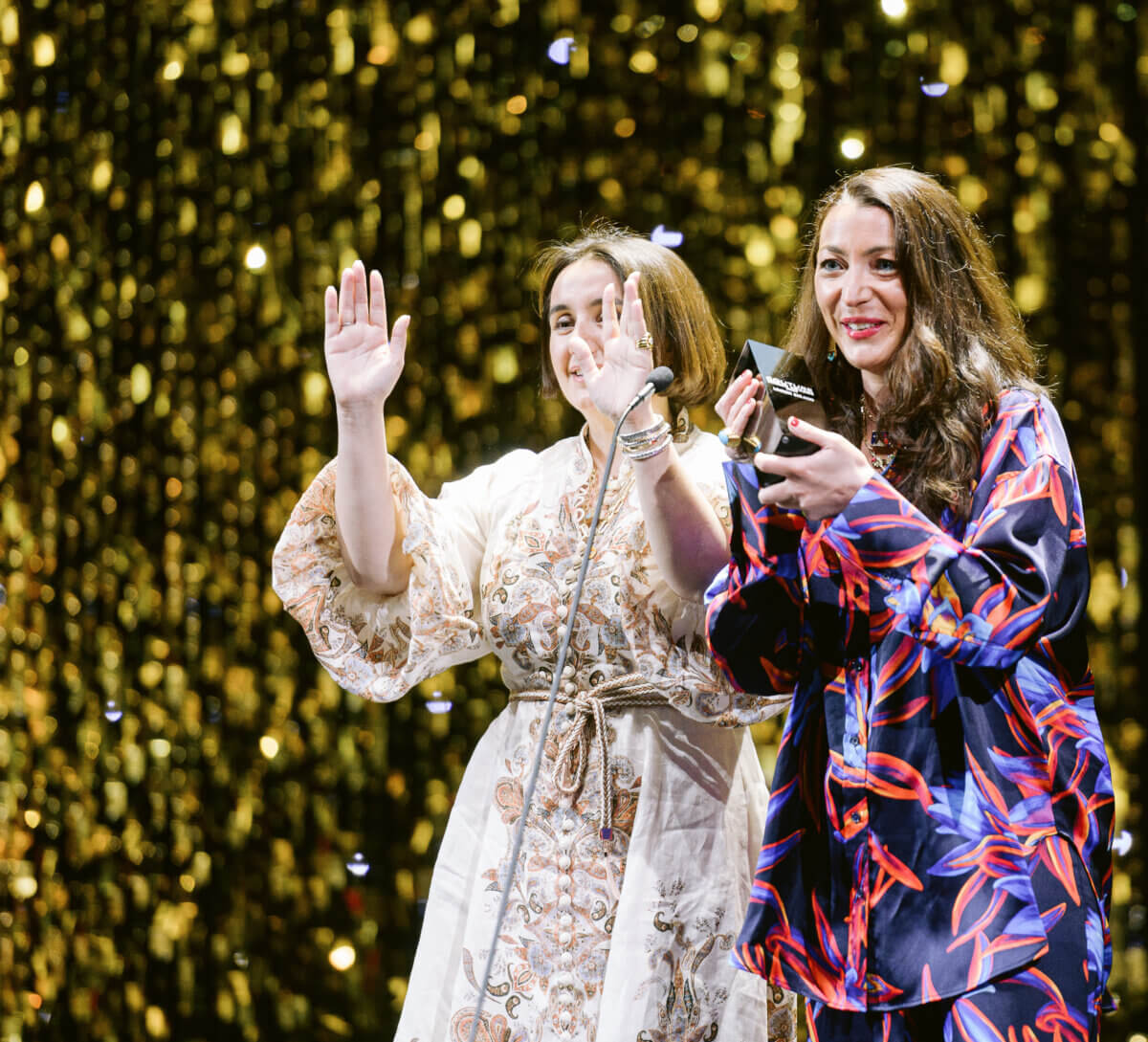 "Winning the COUTURE Design Award for a piece on which we have been working so hard feels like an incredible achievement for our team," noted Nina Dzhokhadze who, along with her friend, Natia Chkhartishvili, is the creator of NeverNoT. "Our 3-dimensional solid stone and gold suitcases are inspired by different destinations, trips in general – no matter if it's for a holiday or a business trip, your suitcase is always coming with you!"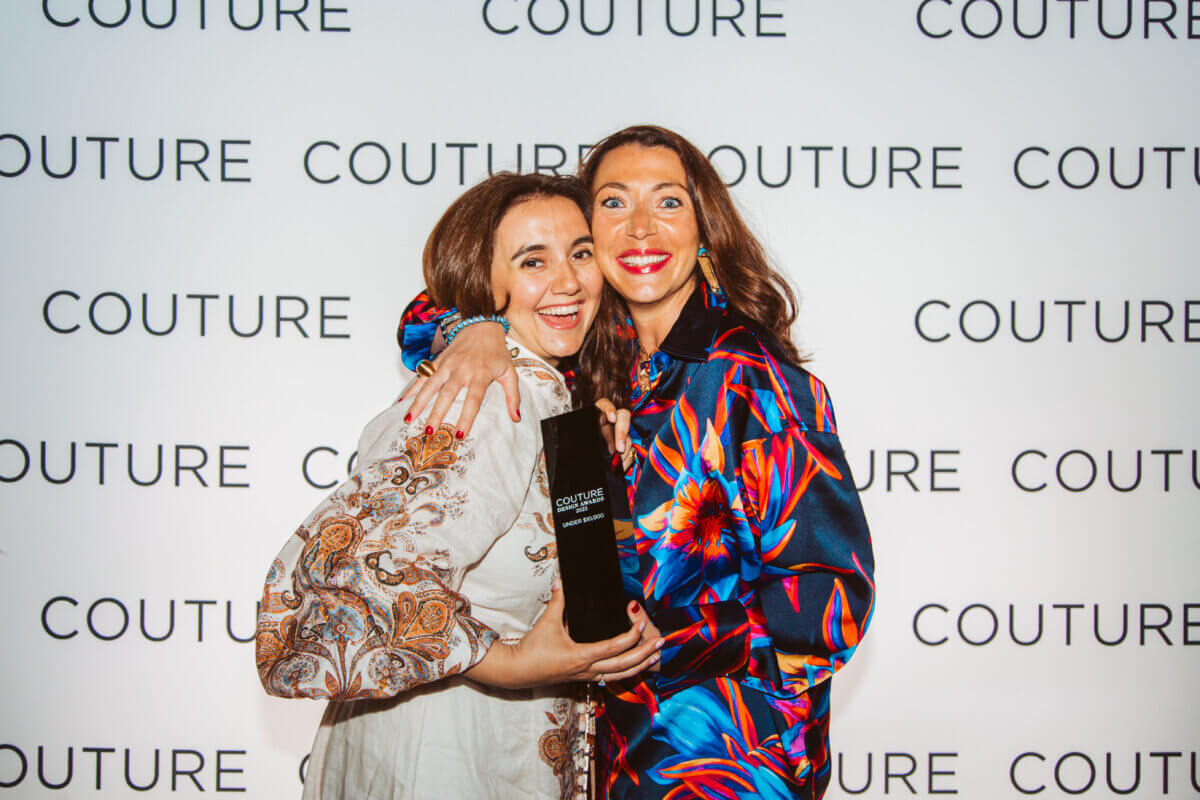 Georgian-born and London-based, the two designers named their company NeverNoT as an invocation to live life to the fullest; to put it more defiantly, to never NOT live life to the fullest! Their passion for travel and new experiences is infused into their brand, so winning the COUTURE Design award for this piece is particularly poignant, "I can confidently say that COUTURE is the most favourite trip for all jewellery industry members," Nina explains. "The COUTURE team has created this one-of-a-kind environment where travel for work becomes so exciting that the whole industry is awaiting this week. This is a very unique experience, and our win for the suitcase feels even more special now, knowing how we pack for COUTURE—with excitement and anticipation!"
Best in Platinum: Sorellina
Our Best in Platinum category has gotten increasingly competitive in the last couple of years. Once dominated by designers and brands who specialize in working with this noble metal, we're beginning to see designers who are notable for their work in gold try their hand at designing in platinum. 2022 marked the launch of a COUTURE partnership with Platinum Guild International (PGI) for their Platinum Spotlight Program, for which we challenged select designers to work with the naturally white metal, and we were delighted to see that some of the inaugural designers, as well as some from our 2023 cohort, decided to enter their unique creations into the design awards competition.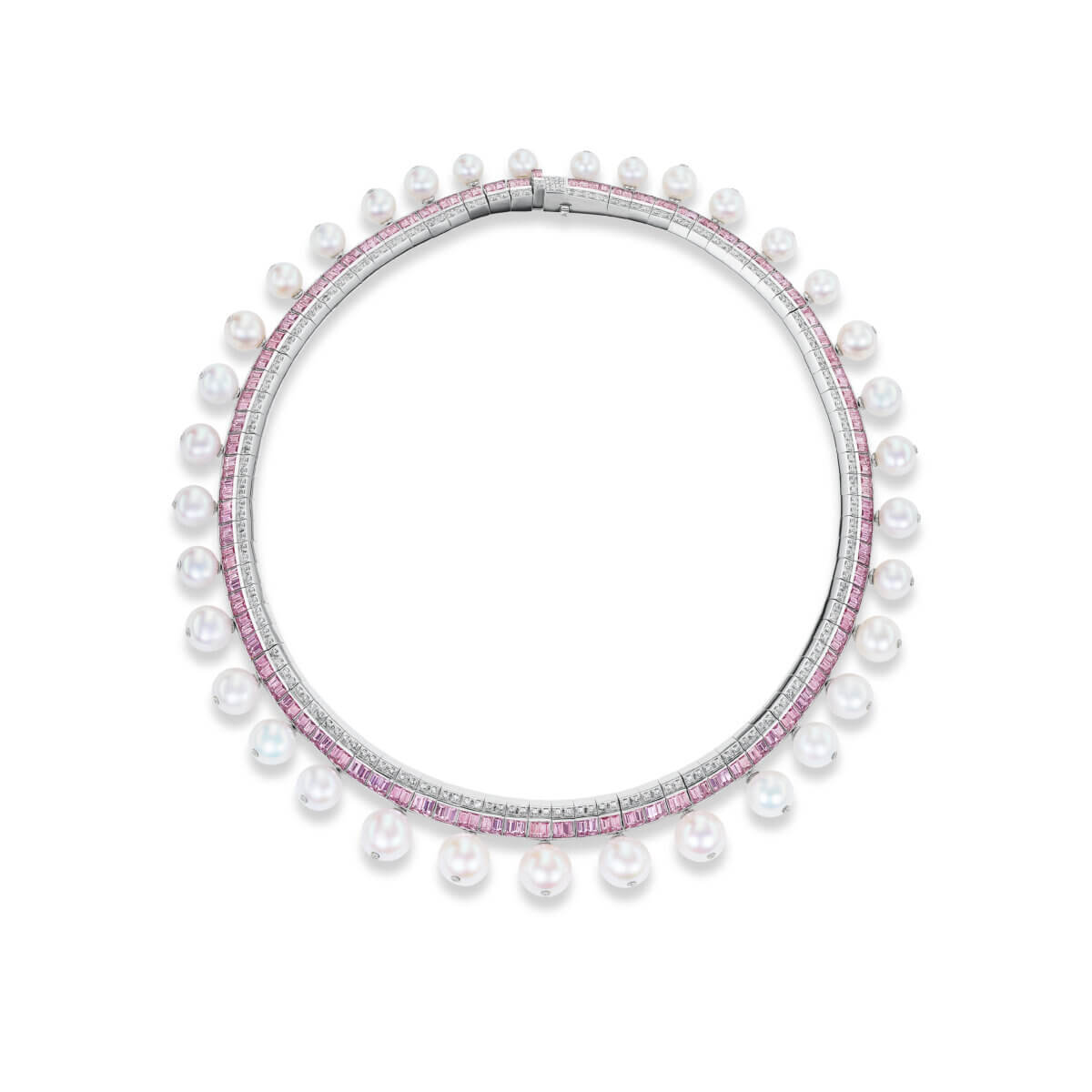 The three finalists in the category sparked an in-depth conversation about the meaning of the category itself. Should Henrich & Denzel GmbH, who has a long tradition of working in platinum, win for their impeccably crafted platinum and diamond ring that showcased platinum's unique qualities in a more traditional sense? Or was the deceptively minimalist collar necklace with a solitary Tahitian pearl created by TenThousandThings a more apt use of the metal, especially in the way it lay when worn, a function that could only be achieved with platinum?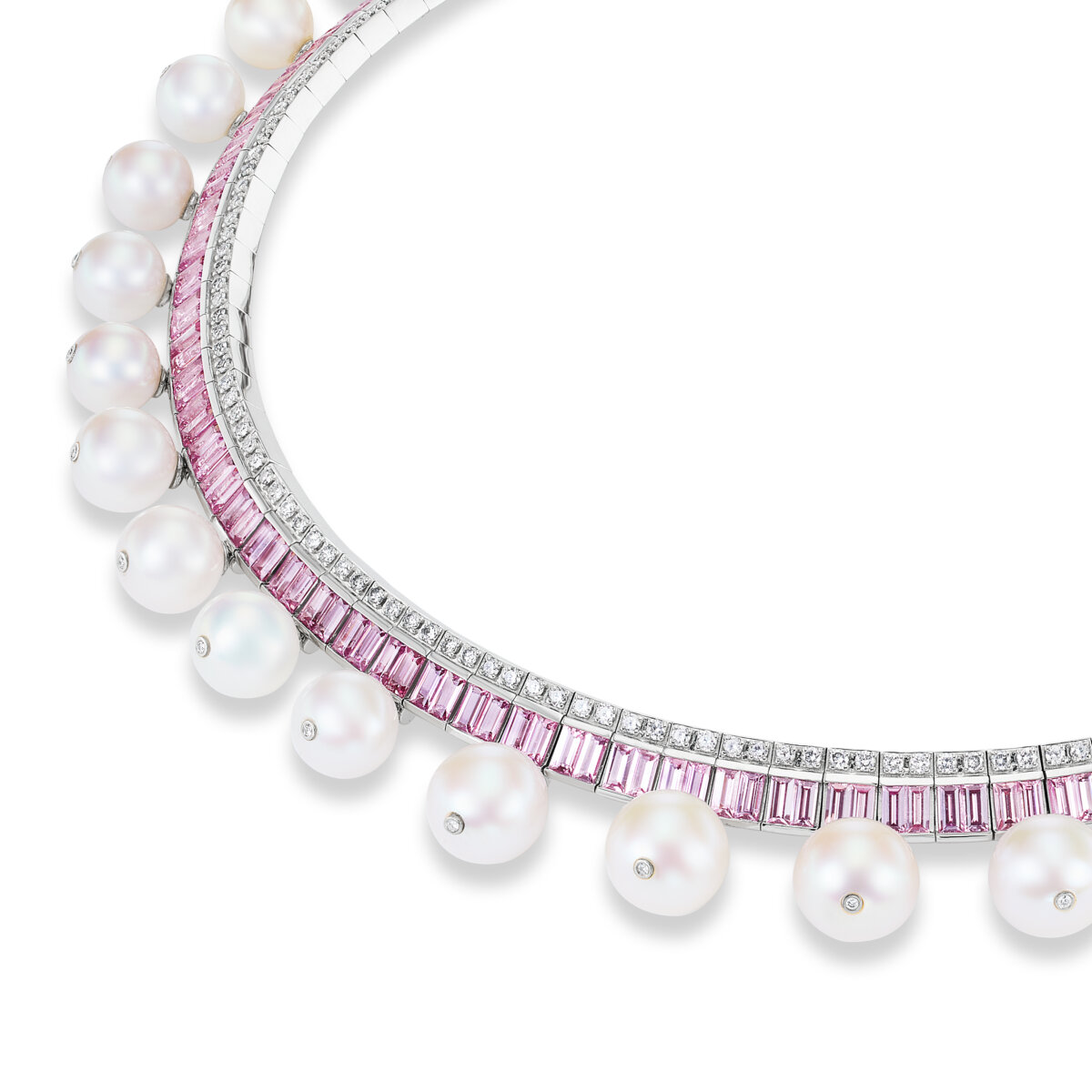 Sorellina's collar necklace featured pearls, garnets and diamonds set in platinum, so would it be better suited to the Best in Pearls category? And yet platinum's hue enhanced the luster of the pearls, the sparkle of the diamonds and the vibrancy of the garnets in a way that yellow gold never could.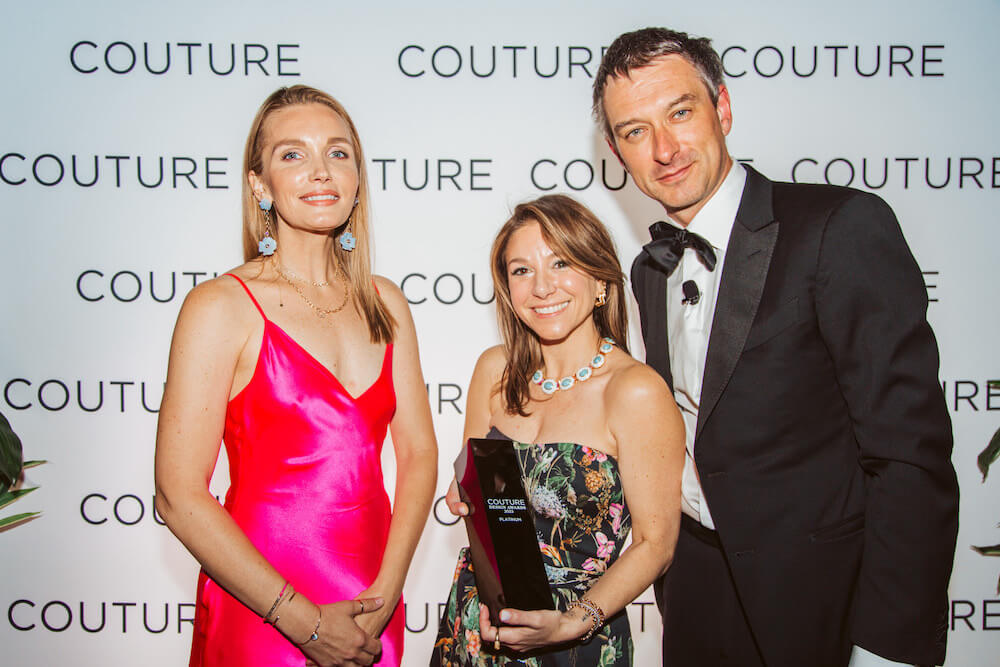 Ultimately, the panel of judges turned to history to solve their conundrum, with one of the judges remarking that platinum's primary provenance in jewelry lay in its application as a setting for stones. With that in mind, they made the painstaking decision to select Sorellina's stunning necklace as the winner. The decision was in-keeping with the intention behind the work, "This piece is special for so many reasons," enthused the brand's designer, Nicole Carosella. "Using platinum was a design departure for us and stepped outside of Sorellina's DNA. The rich color inherent to platinum opened us up to using a different color palette. We have been wanting to use Malaya garnet for some time and we knew the combination of platinum + Malaya garnet + pearls would be breathtaking."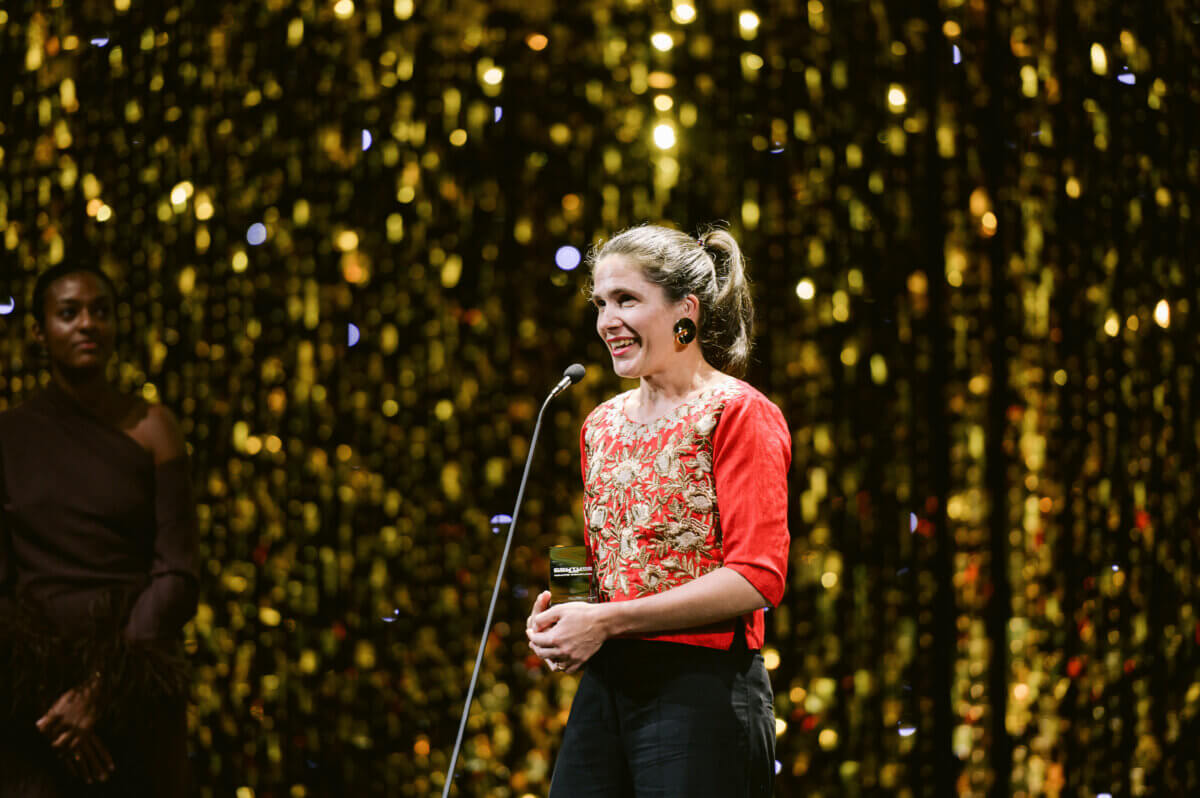 Best in Haute Couture: Maison Alix Dumas
Discussions surrounding our Best in Haute Couture category always serve as a catalyst for lively debate among our judges. While none of our unique panels has gotten held up on the traditional, technical definition of the term Haute Couture, they always want to ensure that their selection of finalist and winner in this category represents their specific interpretation of the concept.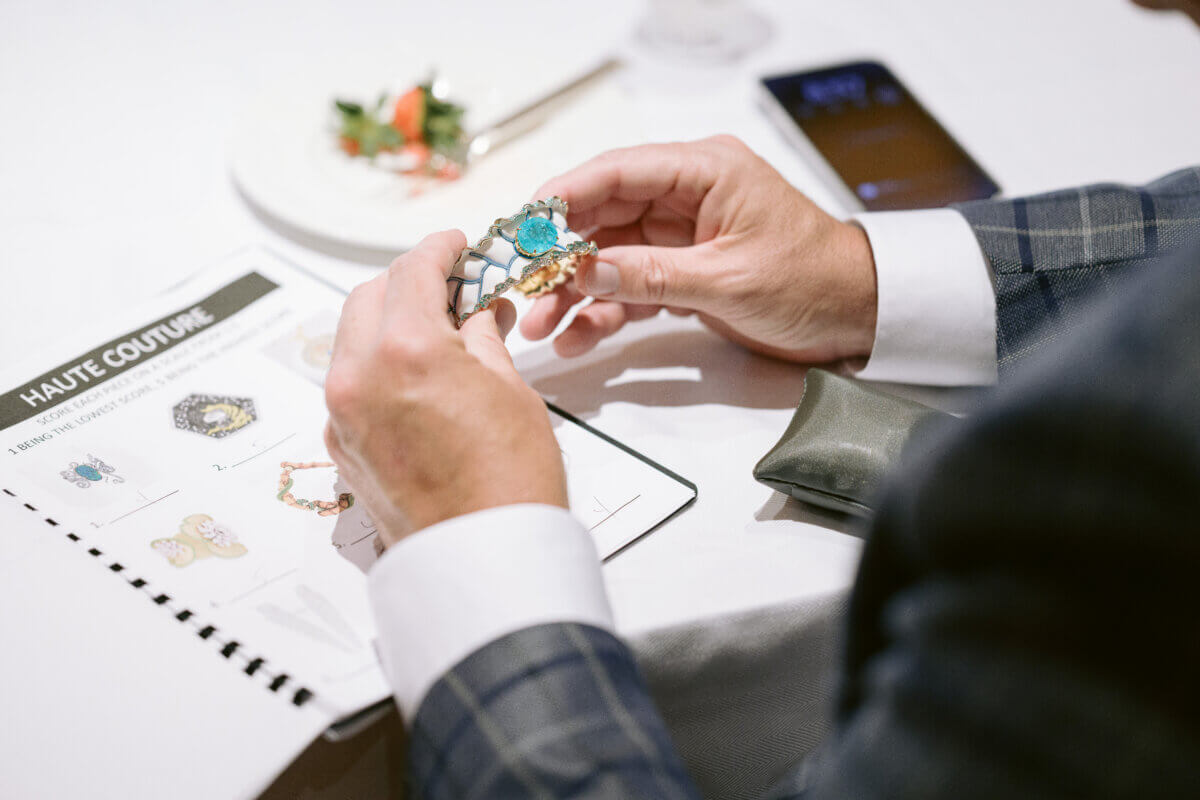 What was notable this year was that the judges looked at their choice of the final three as a group, ultimately selecting the breathtaking work of yet another French brand, Maison Alix Dumas, as the winner. Made with 18k Fairmined gold, anodized titanium and recycled blacked silver set with diamonds, spinels and sapphires, the Magnolia Flower brooch is a triumph of both scale and intricacy. Handmade by Alix, the piece must have taken hundreds of hours at the bench, as evidence by the exceptional craftsmanship of the final product.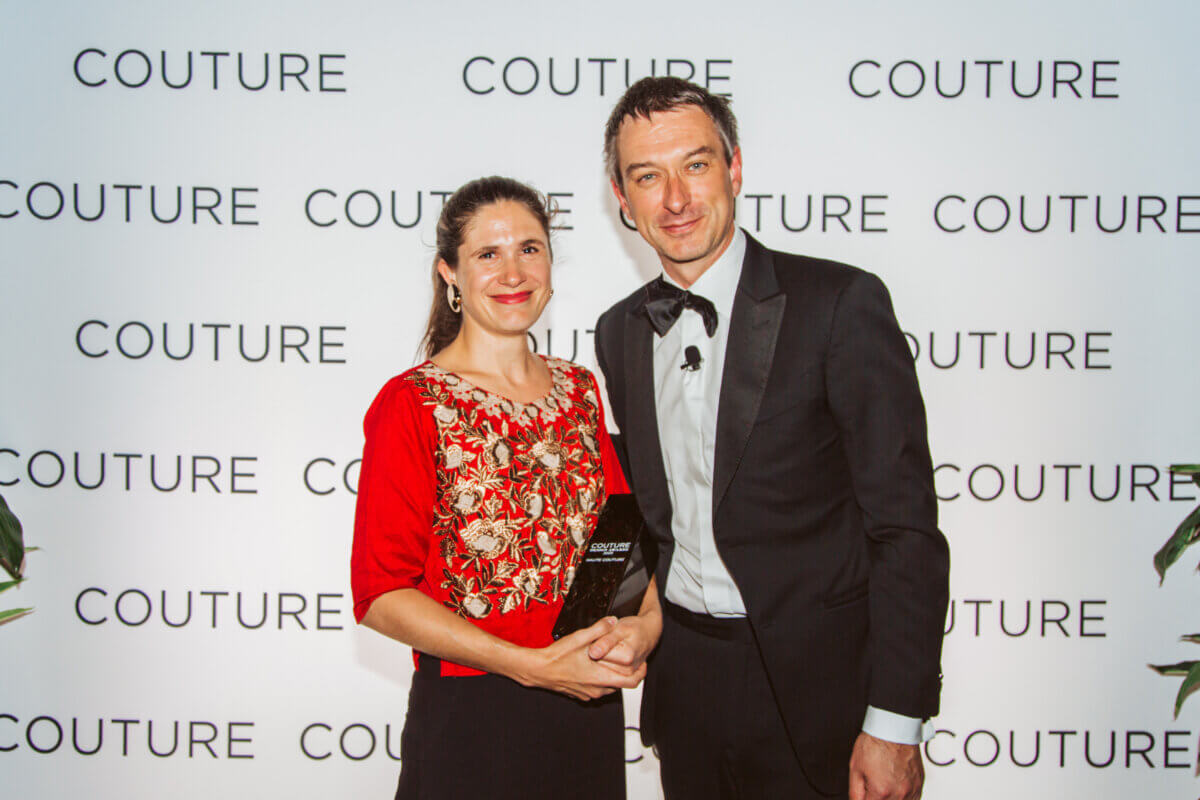 What was also apparent was the thoughtfulness and consideration the designer invested into the piece, "Making this Magnolia flower brooch wasn't about reproducing nature because nature is perfect," Alix told us. "To me, it is about translating into an object the poetry, the wonderment that touched me and that I want to share. Moreover, what's very special about this piece is that it was entirely made by me (and my setter). I am a woman, a mother, a jeweller and an artist. It's a rare accomplishment nowadays in the world of high jewelry where a dozen hands at least are involved in the making of a single piece."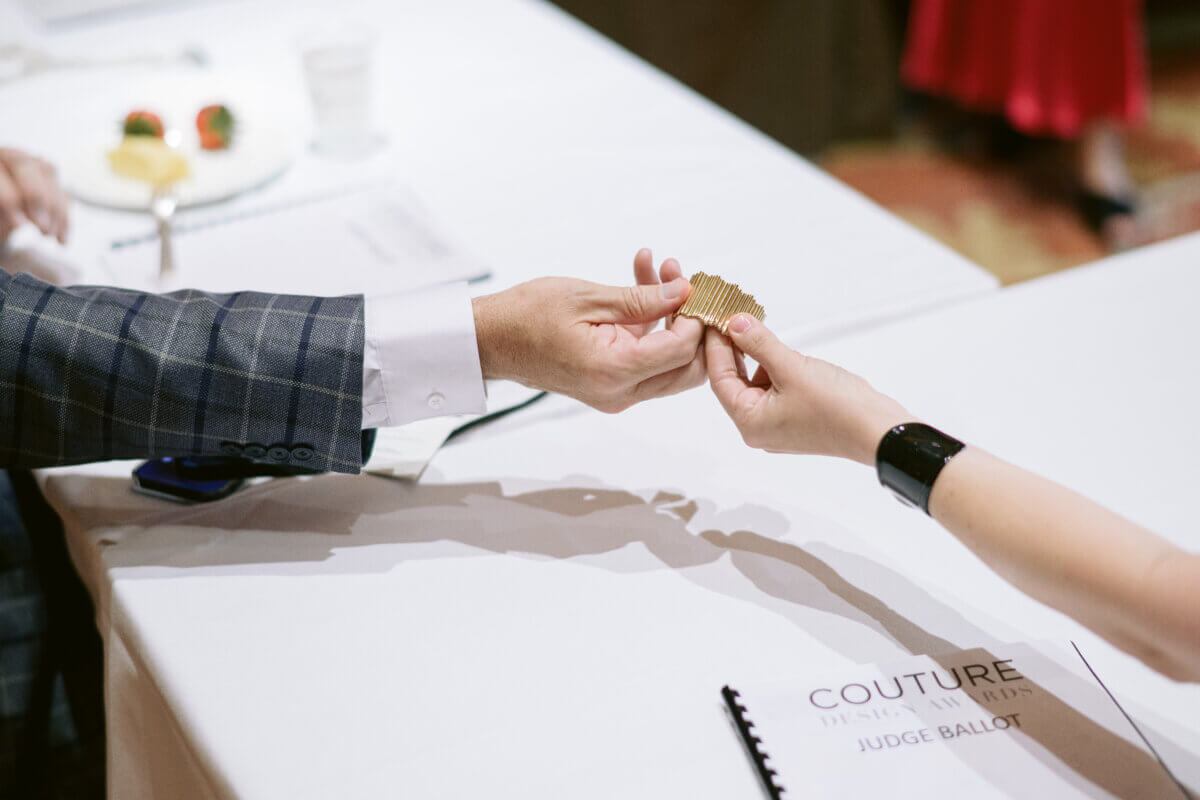 Best in Gold: Viltier
Our Best in Gold category is always extremely competitive. Gold's malleability and warmth make it an excellent choice for showcasing one's technical prowess and creativity, and it lends itself exceptionally to bold, statement-making pieces worthy of taking home the venerable prize, Best in Gold.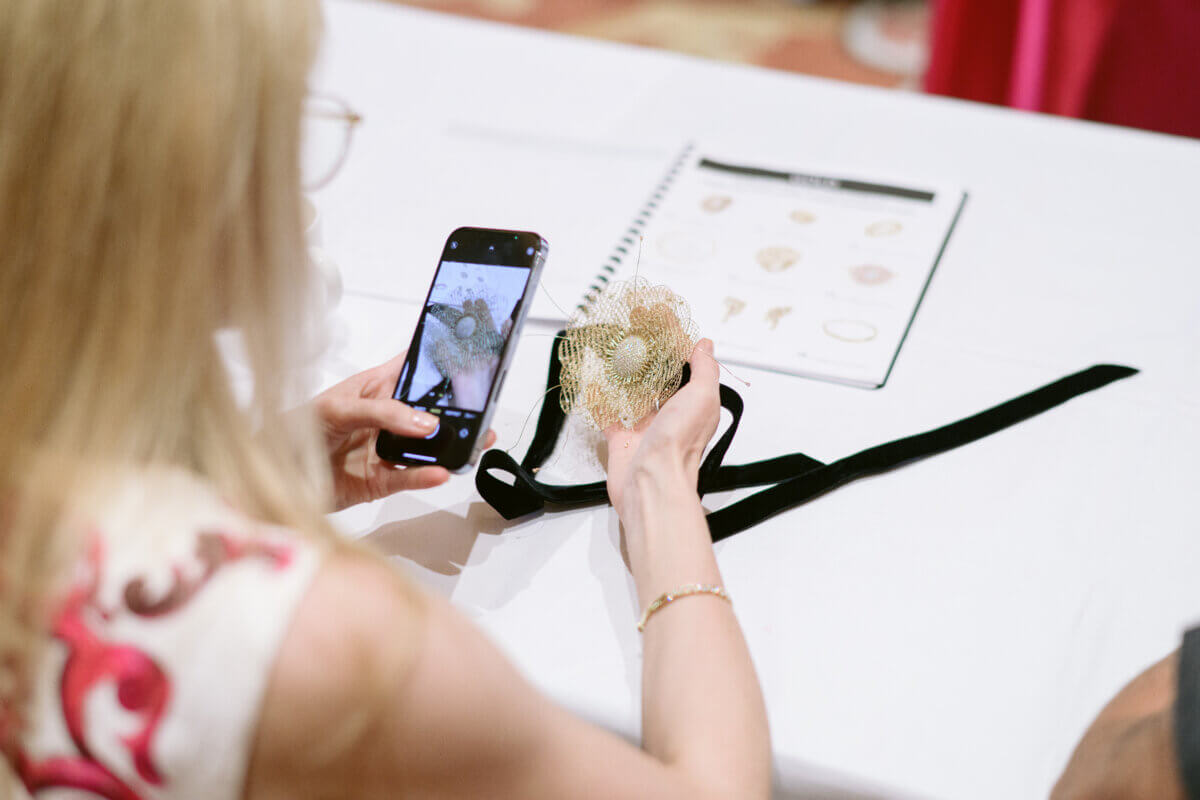 People often ask us about the judging process, and while it is always nuanced based on the unique panel of judges, there have been many commonalities throughout the years. When they arrive at COUTURE, we provide each of the judges with a booklet of images of pieces in each category and ask that they review the pieces in the cases against the corresponding images and then provide a preliminary score by 5pm the night before the judges' meeting. Based on the compilation of these scores, the highest ranking pieces in each category are brought into the judging room on the morning of the competition and from there, the judges deliberate and discuss the merits of each piece. Often, we are asked to pull additional pieces for consideration, so those pieces that aren't "in the room" can be discussed and often, some of those pieces end up becoming finalists or even winners.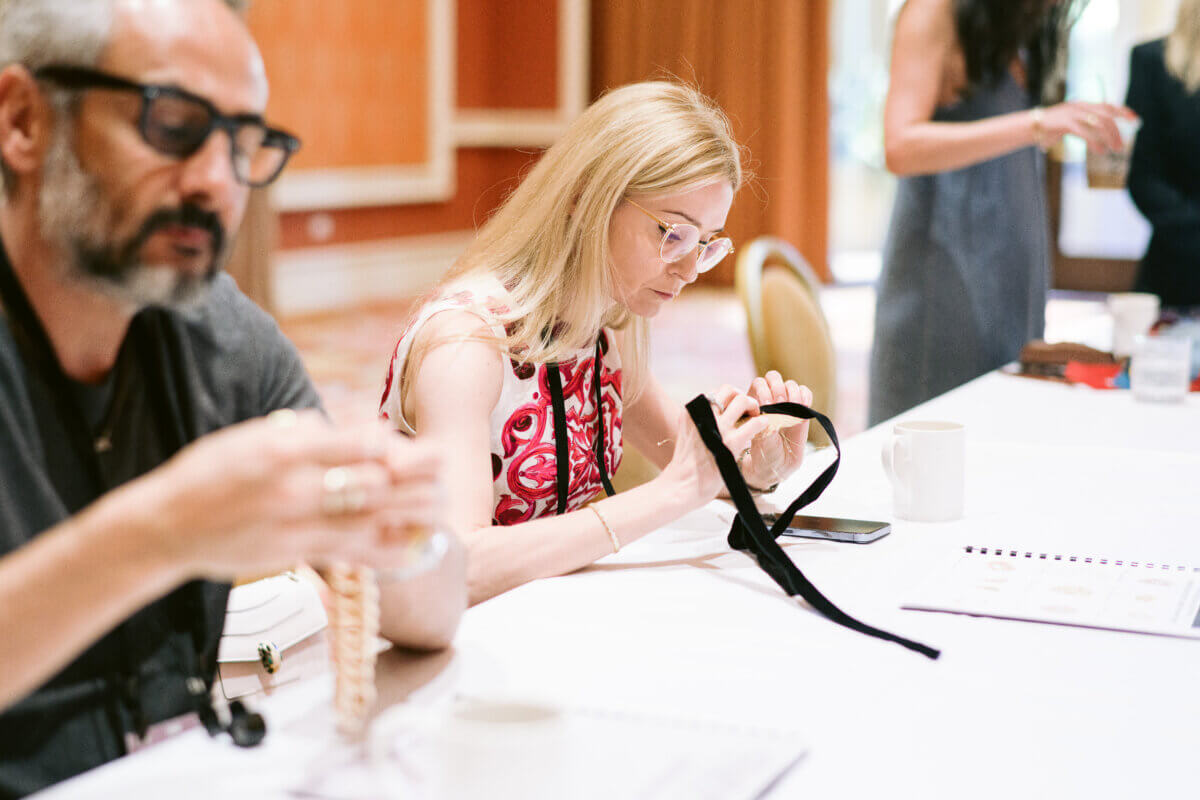 Based on the compilation of these scores, the highest ranking pieces in each category are brought into the judging room on the morning of the competition and from there, the judges deliberate and discuss the merits of each piece. Often, we are asked to pull additional pieces for consideration, so those pieces that aren't "in the room" can be discussed and often, some of those pieces end up becoming finalists or even winners.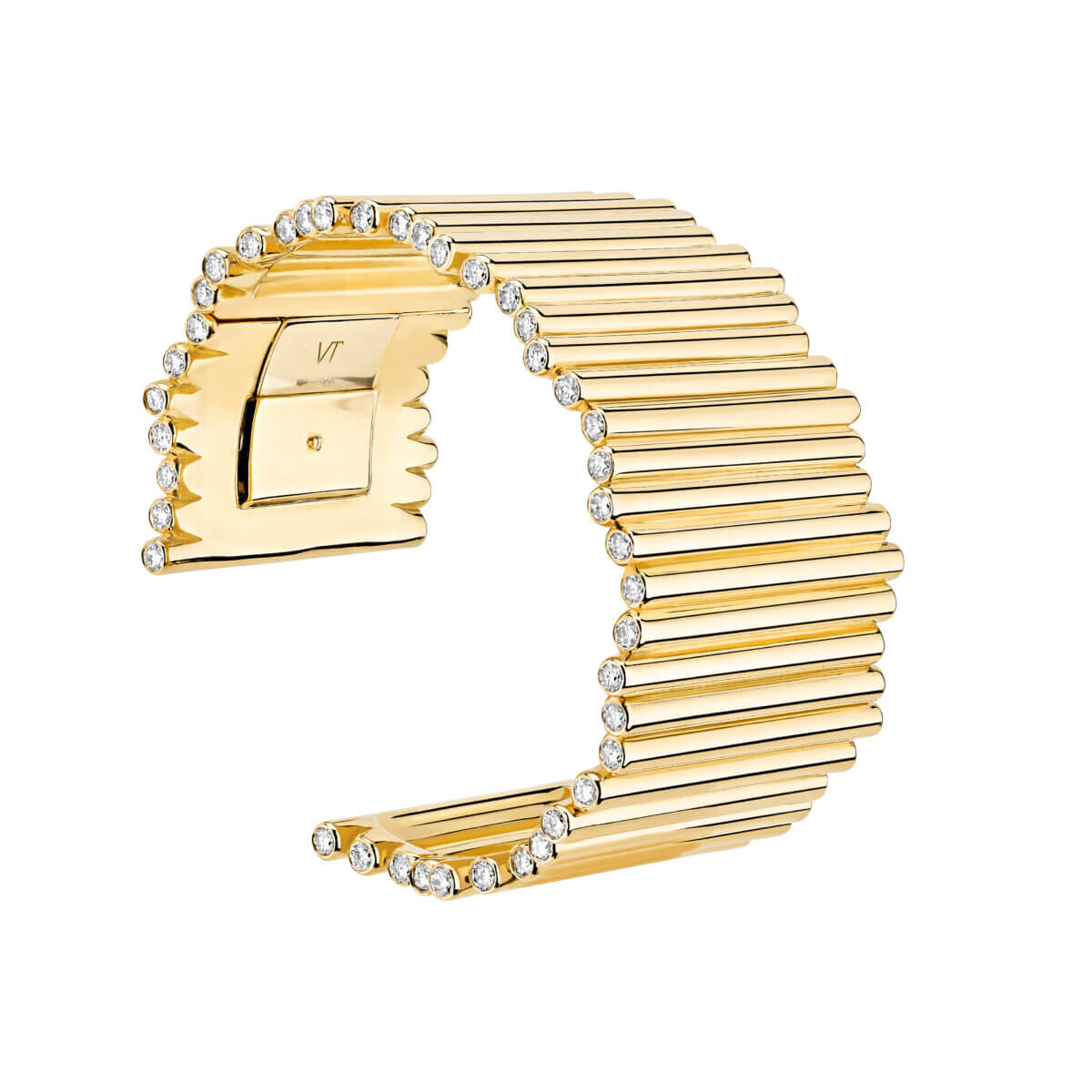 Never has this process played out more than in this year's Best in Gold category. There was so much to love in the category that we kept being sent out to bring in additional pieces. The three finalists were carefully considered, with IsabelleFa's classic gold link chain thoroughly looped, and CADAR's 1920's inspired mesh blossoming flower with diamond "dew droplets" mesmerizing with the intricacy of its craftsmanship. Yet it was another French brand, Viltier, that was awarded the honor for their Edge cuff bracelet, which was cited for the subtle elegance that belies the complexity of its craftsmanship.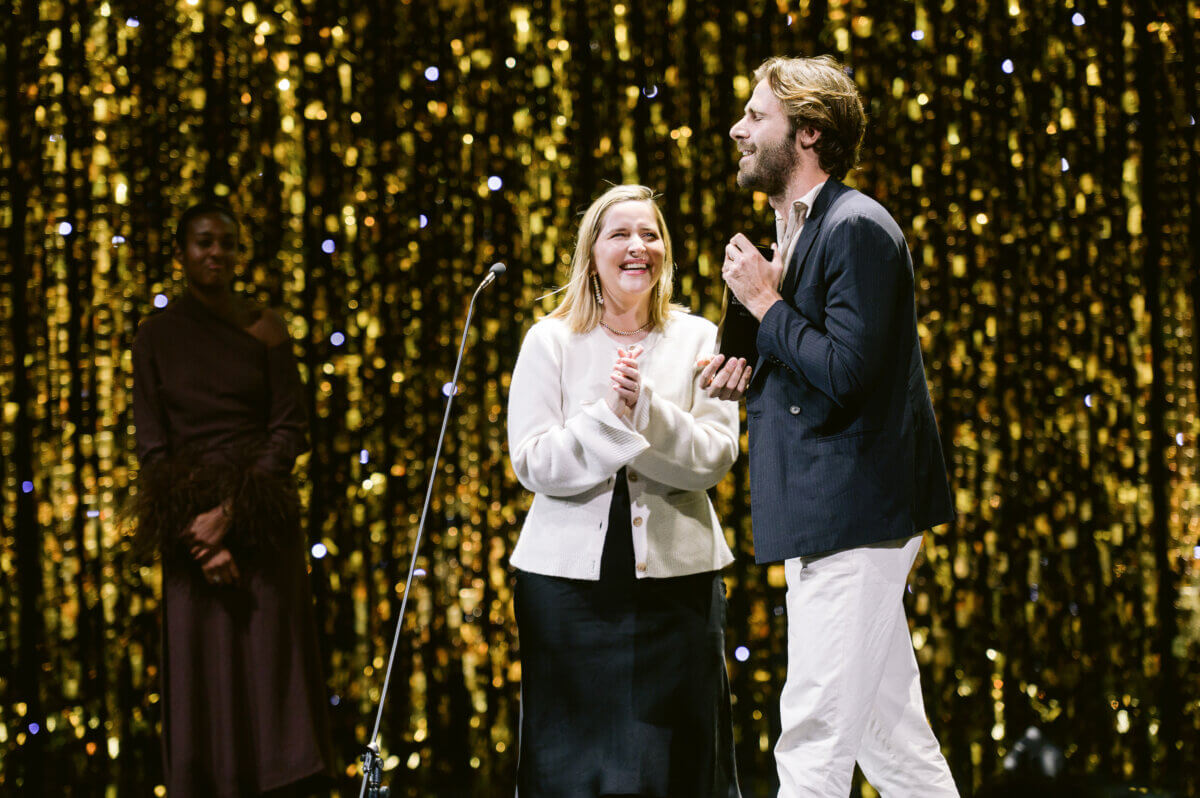 Yet it was another French brand, Viltier, that was awarded the honor for their Edge cuff bracelet, which was cited for the subtle elegance that belies the complexity of its craftsmanship.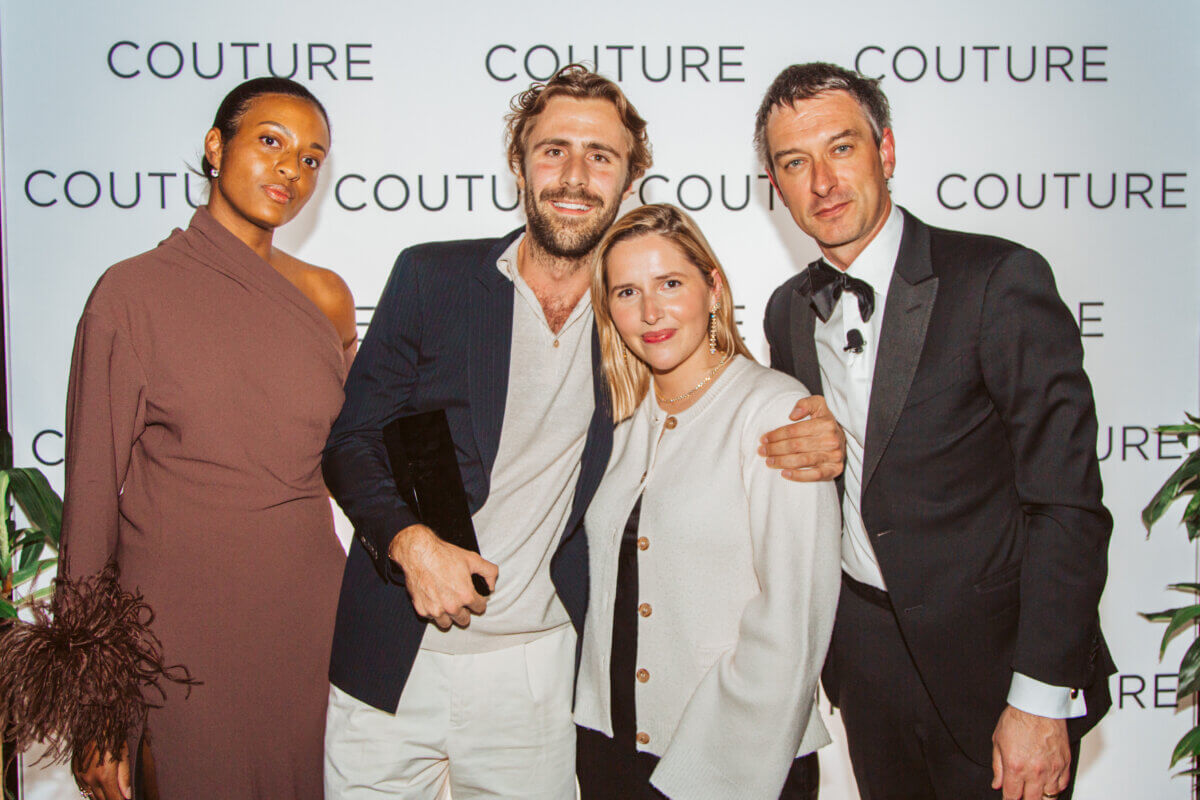 Thomas Montier Leboucher, who, along with his friend Iris de La Villardière, sits at the helm of this relatively young brand, explains what's special about the piece from his perspective, "What makes the Edge bracelet so special is the play of light from every angle and the surprising sparkle. Undeniably architectural with its tubular silhouette and punctuated with an unexpected array of diamonds on its verge, the Edge bracelet is unique, bold and definitively chic."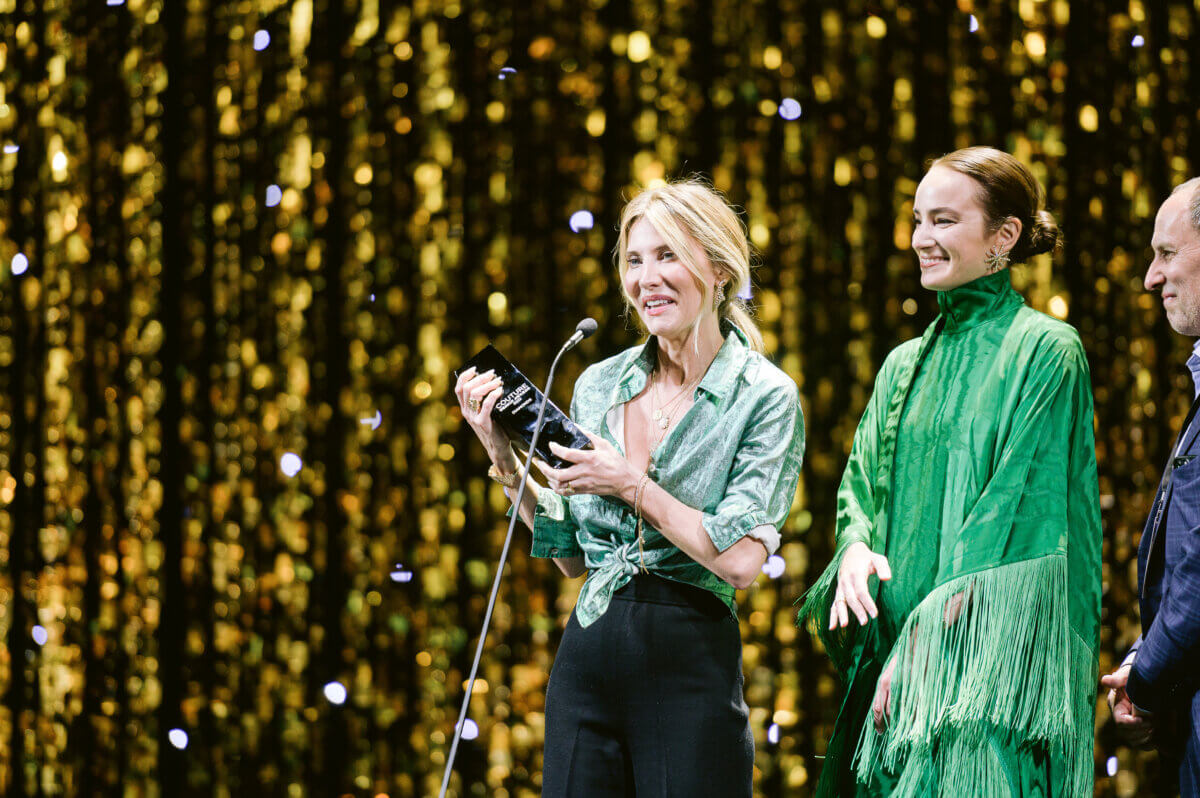 Best in Diamonds Below $40,000 Retail: ONDYN
Submissions in our two Best in Diamond categories may be the strongest evidence that COUTURE is, above all else, a show that focuses on designs with a unique point-of-view. While the judges always consider the quality of diamonds used in each of the submissions, they are usually more focused on the design acumen showcased in the work, as well as on the innovation applied to the selection and use of diamonds in a piece. Let's face it, the unique panel of judges we put together each year is made up of fine jewelry experts, they've seen it all and are not going to swoon over a piece simply because it showcases a gorgeous diamond!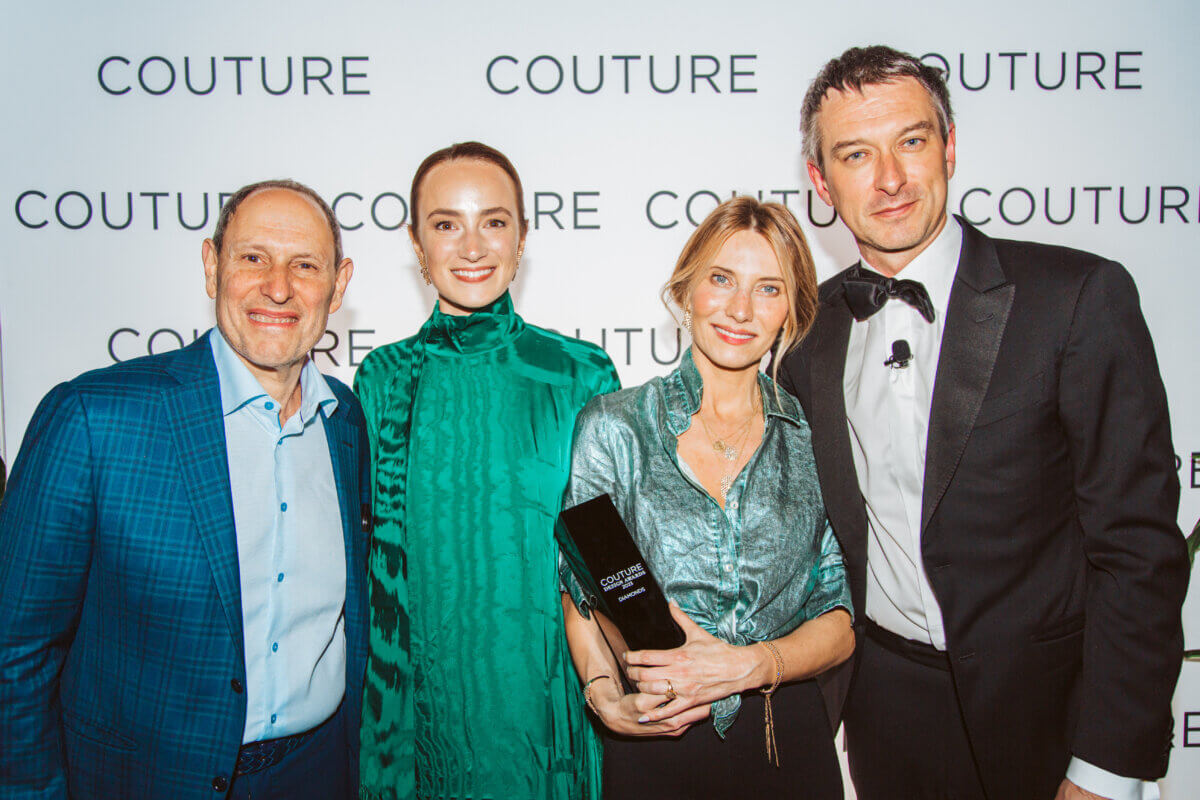 This year's award for Best in Diamonds Below $40,000 went to ONDYN, a water-inspired collection created by designer Tara Maria Famiglietti. Raised by fashion designer parents, influences of their craft can be seen in the fabric-like feel of these Grand Diamond Bias earrings, which are comprised of articulated bezel-set diamonds that are "technically engineered to showcase our new iteration of movement in jewelry," according to their submission form.
"I think the Diamond Bias Earring is special and unique," Tara explained. "Inspired by the drape of bias cut silk, the act of fastening the earring behind the ear by draping it into a cowl of diamond fabric, seems poetic."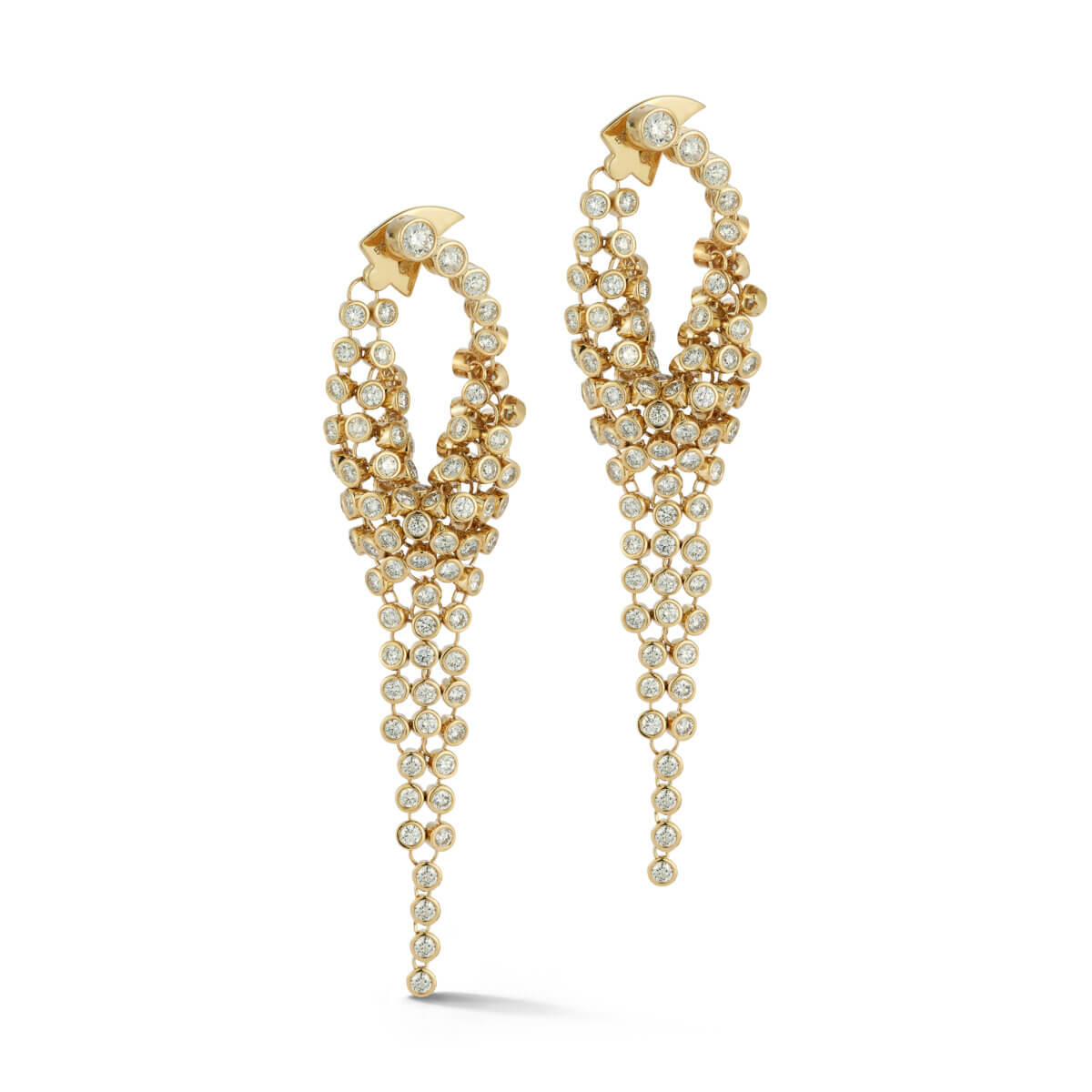 ONDYN won in the same category during their inaugural showing at COUTURE in 2021, which brings up a slight change to the criteria that's worth mentioning here. Previously, our Best in Colored Gemstones and Best in Diamonds categories were broken up by below and above $20,000 wholesale. We changed this to reflect below and above retail based on the reach our Design Awards has garnered among consumers, and feedback we received from retailers who stated that, after posting winning pieces on their Instagram page, clients were coming in inquiring about purchasing the work and getting sticker shock that a "below $20K piece" was being sold for more than $20K at retail.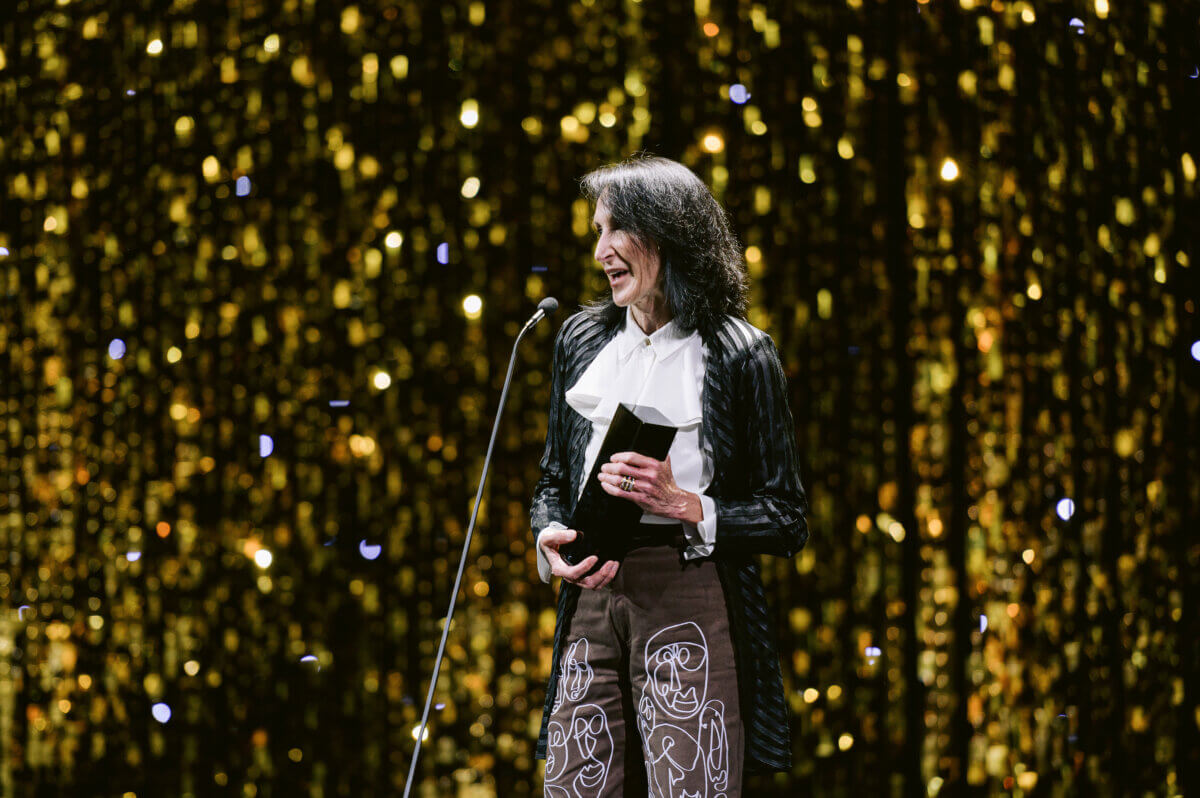 Best in Diamonds Above $40,000 Retail: Etho Maria
The three finalists in our Best in Diamonds Above $40,000 Retail category were all breathtaking in their ingenuity. Mattioli's Ventaglio cuff, normally part of a parure, was inspired by the pleats of folding fans, while Busatti 1947's carbon fiber cuff took inspiration from a men's shirt cuff with a cufflink mechanism, and both impressed the judges with their ingenuity.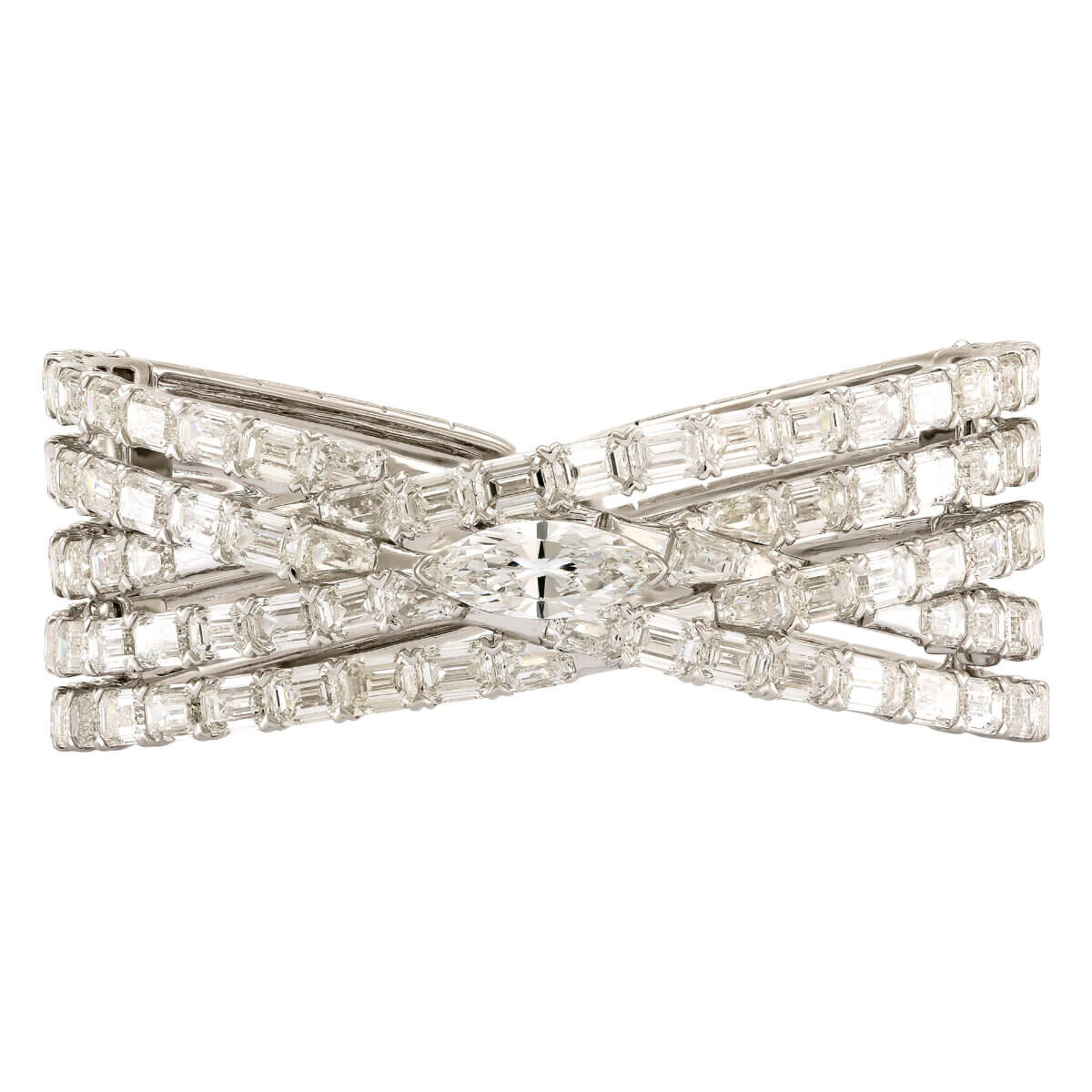 Yet it was the diamond bracelet by Etho Maria that impressed the most; it was obvious to the panel of judges that the diamonds utilized had been painstakingly sourced, and they felt it provided the biggest look for a big ticket item.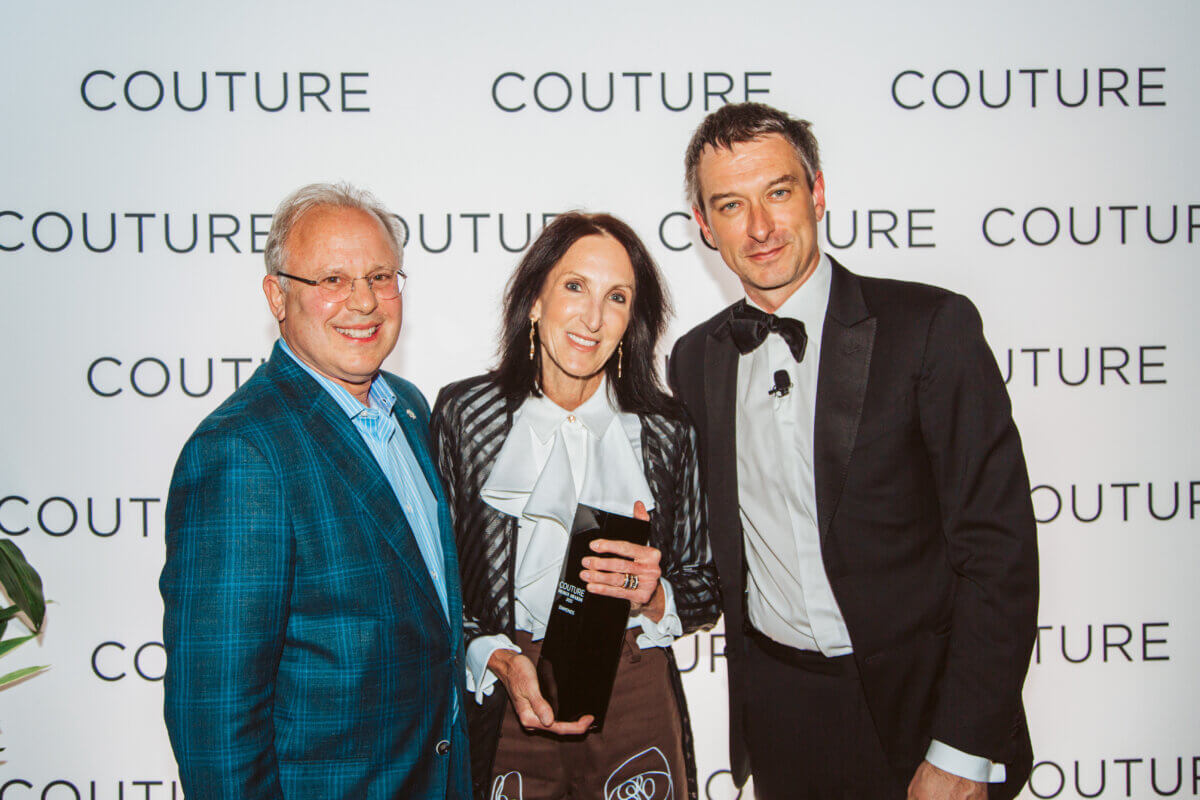 Confirming the judges' impression of how difficult it was to source the diamonds, in a statement the brand explained, "Like all of Etho Maria's high jewelry creations, we use impeccable stones selected for their overall quality and beauty. It took six months to select and layout matching diamonds and then recut to get the correct shape to form the lines of this bracelet, a time consuming process considering in addition to the 1.54ct center marquise, 32.52cts of matching diamonds."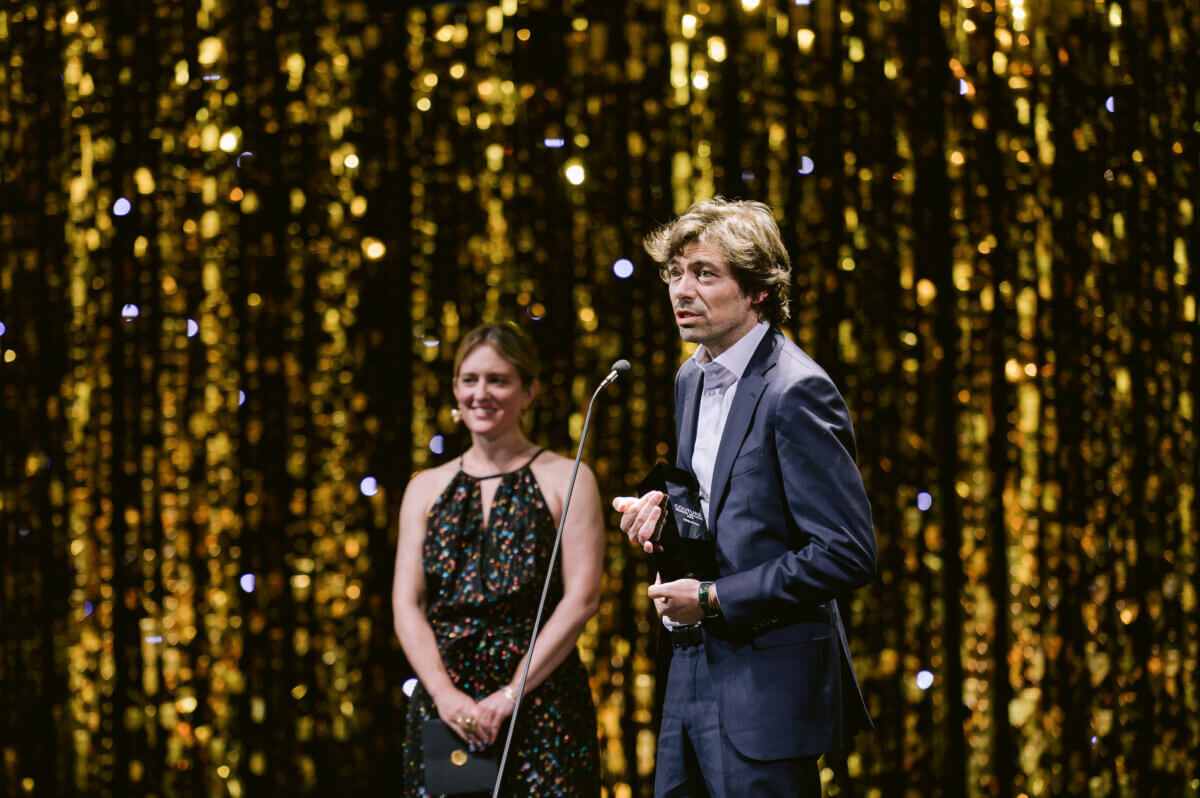 Best in Debuting: PERUFFO
All COUTURE designers are allowed to submit one piece in one category of our awards each year. Any designer who is exhibiting with the show for the first year is also considered in our Best in Debuting category, and all pieces qualify for the Best in People's Choice and Best in Editors' Choice Awards. Based on all of these opportunities, this year, newcomer PERUFFO had an unprecedented number of nominations. They were a finalist in their primary category, Best in Innovative, they were a finalist (and winner!) in the Best in Debuting category, and they were a finalist in both Best in People's Choice and Best in Editors' choice, taking home the Best in People's Choice award based on the audience live vote during the event….not bad for a first timer, huh?!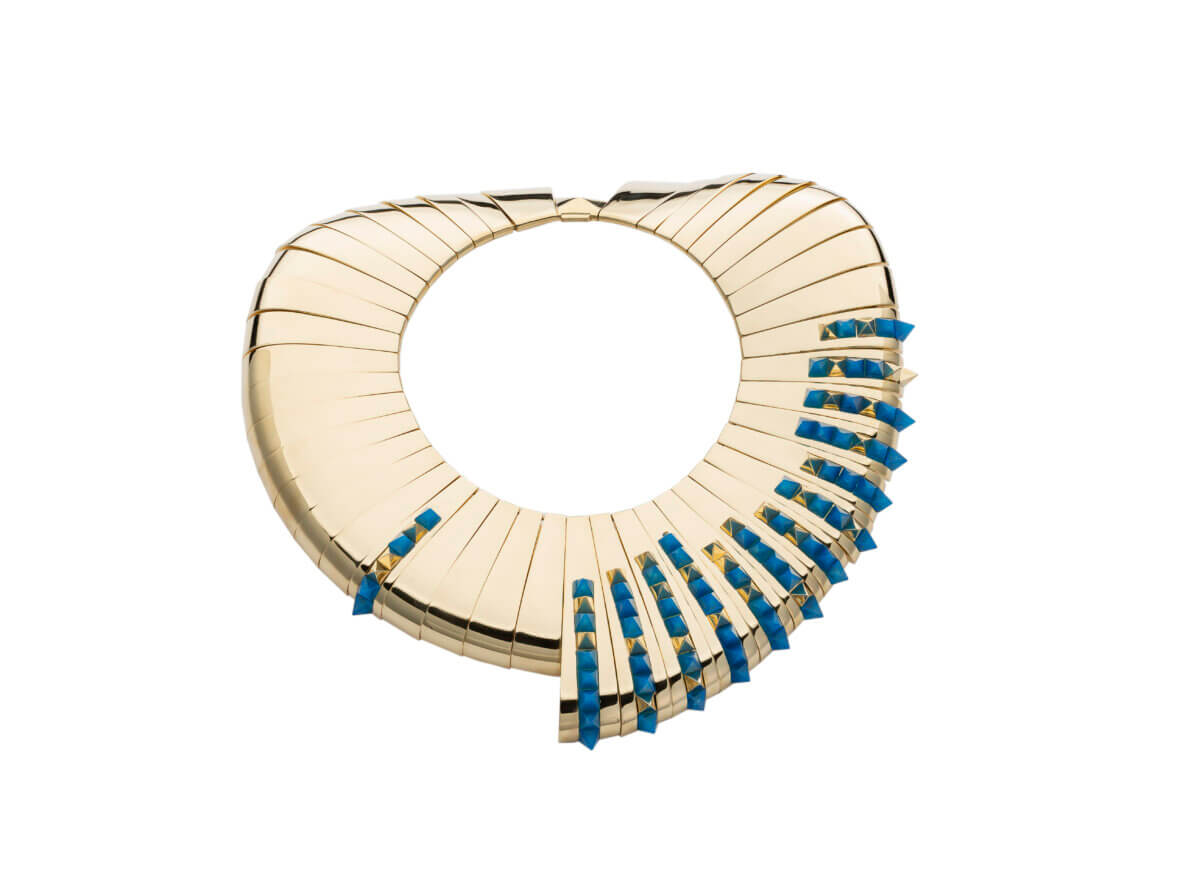 Their entry truly was stunning in both scale and beauty. The Stud necklace was crafted in 18k yellow gold with blue agate and its repetitive pyramid structure rising from a set of lines and a succession of points resulted in a sense of fluidity. As the lucky person in the judges' room charged with trying the piece on so that the judges could see how it lay on the body, I can also attest that it is surprisingly comfortable to wear and had me channeling my inner-Cleopatra!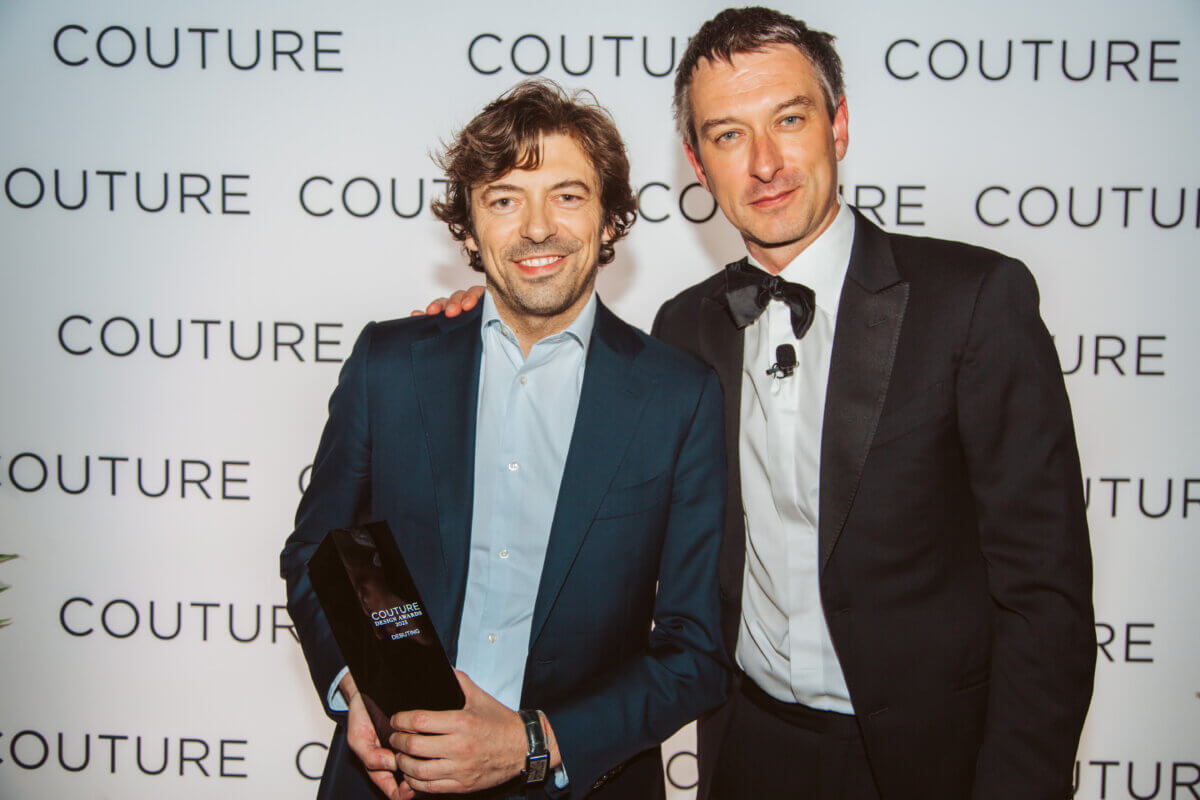 Expressing that sentiment more eloquently, the brand told us, "Our COUTURE piece is the result of a disruptive aesthetic that has been built throughout the entire creative journey of Peruffo, where, concisely put, punk meets brutalism. Marta [our creative director] really wanted to go to a bold extreme and have the opportunity to blend the sharp and radical aesthetics of Peruffo in one statement piece. It combines concepts and shapes like our signature repetition of moving elements featuring our brand symbol – the pyramid stud."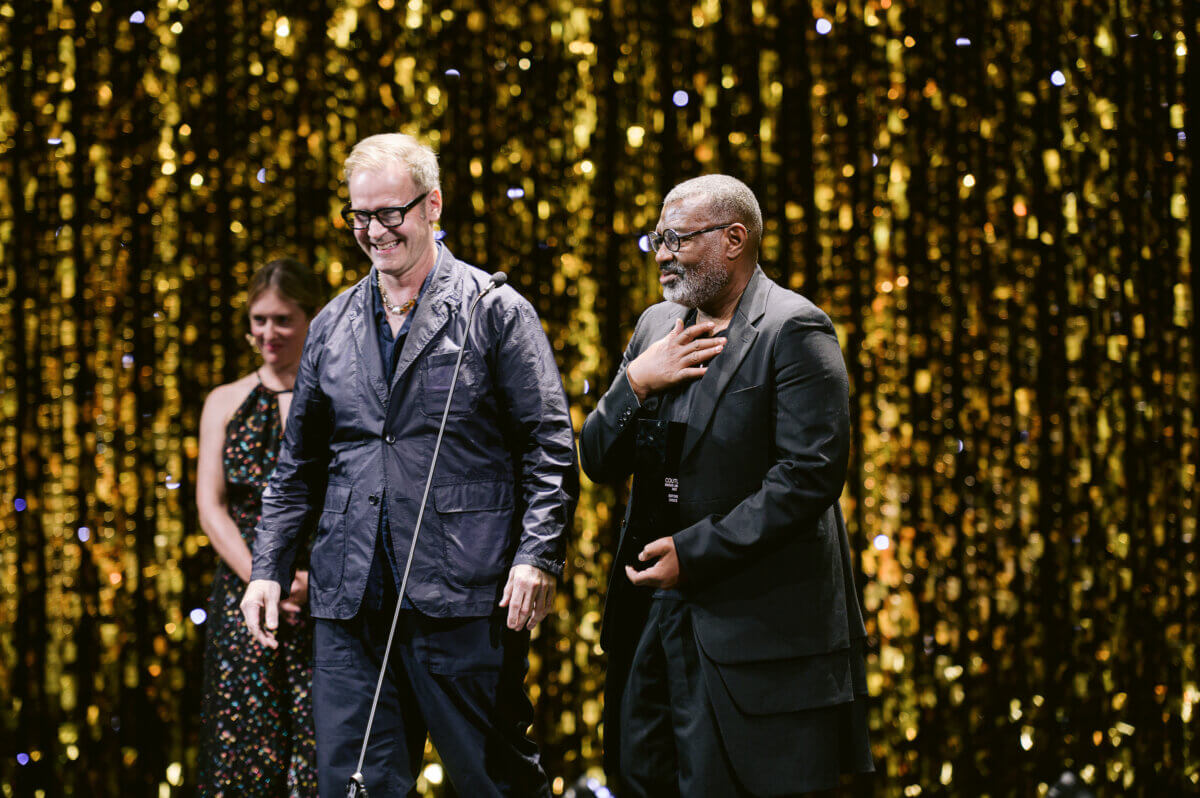 Best in Editors' Choice: TenThousandThings
There are very few brands that are as beloved by editors as TenThousandThings. David Rees and Ron Anderson, the creative masterminds behind the brand, are kind, humble and gracious, and the duo consistently produce work that captivates even the most seasoned enthusiasts. The true beauty of all the brand's work lies in its subtly; one has to examine it closely to understand how ingenious the designs truly are. With intentionality, all touchpoints of everything they produce are carefully considered and at its core, the 30 year old brand continually expresses a depth of understanding of fine jewelry craftsmanship and its place in history, often mimicking time-honored techniques with contemporary flair.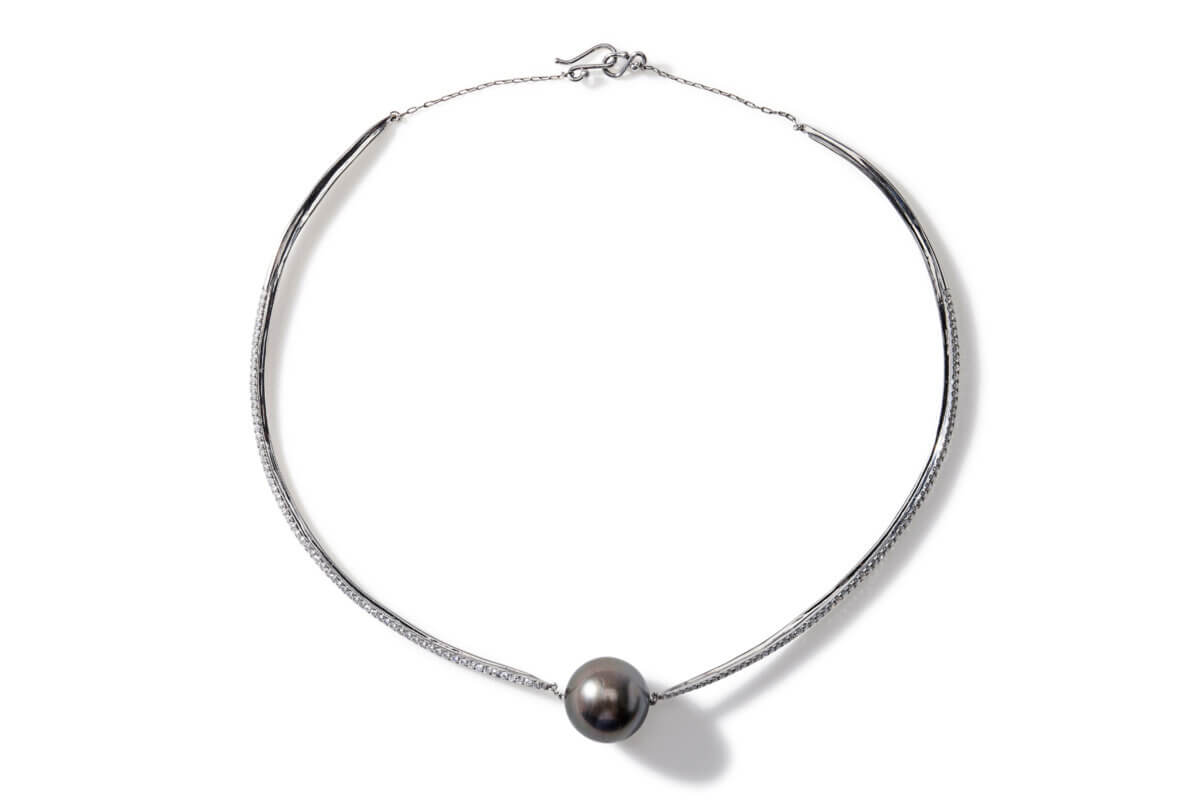 One of the brands selected for our COUTURE Platinum Spotlight program collaboration with Platinum Guild International (PGI), TenThousandThings opted to enter their first ever platinum piece into the Best in Platinum category of the design awards. As told to me by several editors anonymously, it was the bold combination of platinum and Tahitian pearl coupled with the pieces' surprising fluidity that captured the hearts of attending media.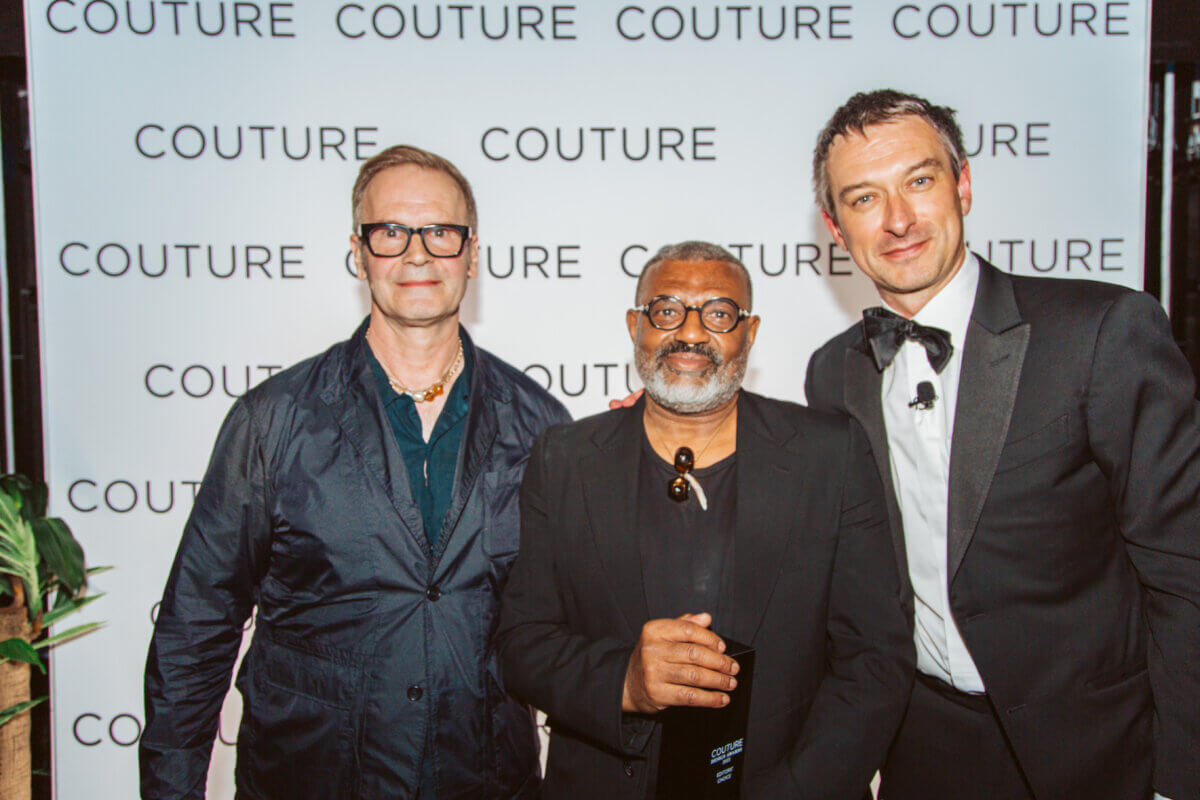 "Our platinum choker is special to us because it is literally the first time we have cast platinum for a piece and we were not prepared for the beauty of the metal," David explains. "Polishing it was truly a lesson in endurance and the reward of doing it correctly, nothing glows like platinum. I think our piece is as subtle as our work usually is. When you hold it in your hands and see how much movement there is in the way it's put together, it becomes quite special. On the neck form it looks stiff but it's actually very fluid and lays on your collarbone beautifully."